SG advocates for Mental Health Awareness Day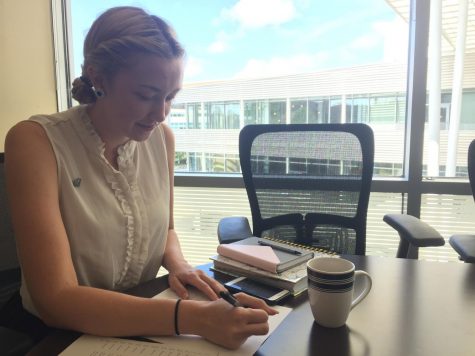 Student Government has started the movement of establishing a city-wide Mental Health Awareness Day headed up by Student Body President Samantha Mims.
Mims hopes to eliminate the negative stigma associated with getting psychological help by spreading awareness through the campus and throughout Jacksonville.
"My senior year of high school was very bad, almost to the point where I didn't make it to college," said Mims. "On paper my life was perfect but I was not okay and the message of this [Mental Health Awareness] day is that it's okay to not be okay."
According to Mims, 1 in 12 college students plan suicide. Because of this, Mims wants to set the day on Dec. 1.
This isn't Mims' first time fighting for mental health. Earlier this year the counseling center gained enough funding to hire three new counselors which should drastically reduce the wait times.
"I think that's probably the biggest victory of the year so far," said Mims. "New counselors have the potential to affect all 16,000 students."
The bill for the Mental Health Awareness Day goes before the Senate on Aug. 21, but it is already sponsored by one senator, Thomas Beaucham.
Mims is very confident that the day will get passed no problem.
"I'm not expecting it to be difficult, we are advocating for awareness not funding," said Mims.
If you or someone you know are in need of counseling, visit the Counseling Center on the second floor of Building 2 or call 904-620-2602.
__
For more information or news tips, or if you see an error in this story or have any compliments or concerns, contact [email protected].