UNF volleyball bounces back in home opener over Savannah State
Video by Joslyn Simmons
North Florida (3-1) swept the Savannah State Tigers (2-2) 3-0 in their home opener on Aug. 30.
In the first set, the Ospreys started off strong and led the entire time without letting the Tigers catch up. UNF dominated and took the set 25-14.
"I think we came out strong to open the home game," Senior Katarina Raicevic said. " We have a really young team, but with great energy. We have more work to do, but I'm really pleased with how we started."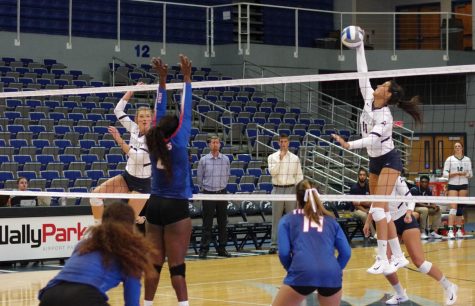 After winning the first set, the Ospreys slowed things down in the second. While North Florida scored three consecutive points, the Tigers came back early to lead the set by just one point.
As the set continued the Ospreys and the Tigers went back-and-forth in scoring and kept the score close in the beginning.
UNF gain a huge lead after scoring off eight straight rallies to give them a 21-10 lead.
The Tigers tried to make a comeback later on, but the Ospreys held them down and grabbed the second set 25-13.
During the third set, the Tigers benefited off of a few of the Ospreys mistakes. After regrouping, the Ospreys scored five consecutive points pushing their lead to 9-6.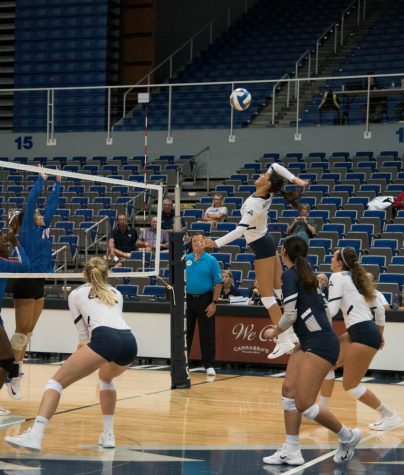 Holding the Tigers to 14 points as they did in the first set, the Ospreys closed out the third set 25-14.
Head coach Steve Loeswick was impressed by the young team's performance in the home opener.
"I know my girl[s] enjoyed being [on the court] for the first time at home this season,"Loeswick said. "We were able to play everybody tonight and work through some nerves. We had a lot of young people on the court and I thought they did a really good job."
Freshman middle blocker Devyn Wheeler had a great game as she finished the night with eight kills and one dig.
The Ospreys finished the game with 49 kills, 47 assists and 46 digs.
The Ospreys head to Statesboro, Ga. to play in the Bash in the Boro where they face Georgia Southern University on Sept. 1. The next day, they compete against University of North Carolina at Charlotte and Bethune-Cookman University in a doubleheader on Sept. 2.
__
For more information or news tips, or if you see an error in this story or have any compliments or concerns, contact [email protected].