UNF men's soccer falls to Georgia Southern
Video by Jesse Martinez and Joslyn Simmons
The Ospreys(1-2) got handed their second loss of the season as Georgia Southern University(1-2) took the win 2-1 at Hodges Stadium on Sept. 1.
Despite being deadlocked at zero for the majority of the first half, the game moved at a fast-paced with several scoring opportunities for both teams.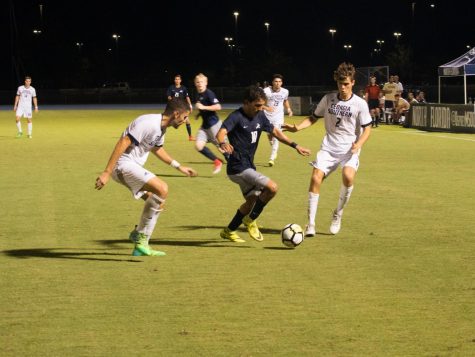 The Eagles were the first to capitalize and notch a goal on the board behind Victor Gustafsson at 27:29 . After an Ospreys' turnover, he kicked the ball toward the goal that was deflected in the net.
Tension was high with several yellow cards being issued to both teams.
Entering the second half, Georgia Southern claimed their second goal at 54:37 after Blake Wilson got the ball past  the goalkeeper.
The Ospreys continued to fight through the Eagles' tight defense with strong attempts to get the ball in the back of the net and  avoid the shutout in front of their fans.
It would be senior Josh Castellanos to score the lone Ospreys' goal for the night with just under a minute left in the game. The midfielder kicked the ball in back of net after rebounding it off the Eagles' goalkeeper save.
This became Castellanos' first goal of the season and his seventh in his collegiate career.
"It's great to get a late goal because you never know [what might happen]. I'm proud of our guys for fighting until the end, but ultimately our issue is that we can't get beat in some of those situations by one ball," said head coach Derek Marinatos.
Time would run out on the Ospreys' late rally and seal their defeat.
The Ospreys and the Eagles finished the game with 16 shots each. UNF had five shots on goal compared to the Georgia Southern's seven.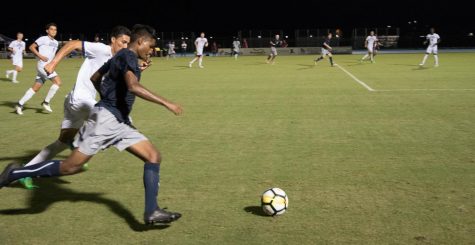 While North Florida had more saves and less fouls, the Eagles had completed more chances at the net.
"Honestly it's disappointing. We gave up too many chances in the first half. Georgia Southern they were a tough team and physical," Marinatos said. "We knew that coming in and ultimately they scored more goals than we did. Defensively we got to get better."
The Ospreys get on the road to play the University of South Carolina on Sept. 5 at 7 p.m.
__
For more information or news tips, or if you see an error in this story or have any compliments or concerns, contact [email protected].