Jacksonville University using the UNF Arena after Irma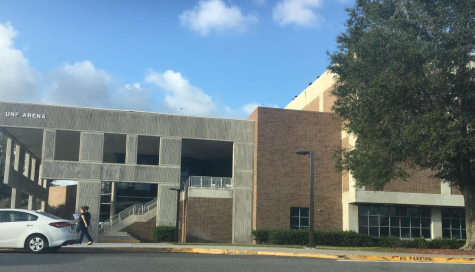 When one thinks of UNF and JU, crosstown rivals is the first thing that comes to mind. However, that's not the case.
UNF's Athletic Director Lee Moon stepped up and offered a hand to the Dolphins' volleyball team after the roof caved on the Historic Swisher Gym during Hurricane Irma.
"As much as I like to beat them, and as much as they are rivals," Moon said. "We still live in the same community and we would do the same thing for someone who lost their house or someone who lost their clothing, we would do what we could to help them."
During the repairs, JU will practice and play their matches at the UNF Arena in addition to the other UNF athletic programs.
According to Moon, athletics waived any fees for the use of the arena during the duration of JU's stay. The Dolphins only have to pay to run their games. Some of the expenses include officials and security while at the arena and UNF will receive the sales from concessions.
"Are there sacrifices we have to make? Yes. But I think when you look at what is best for the community [it's] to reach out a hand to a neighbor and help, even though they are your riva,l it's the right thing to do," Moon said.
Jacksonville faces Kennesaw State on Oct. 6 and Oct. 7 at 4 p.m. They will play against Lipscomb.
North Florida will also play on the same weekend against the same opponents at their originally scheduled time of 7 p.m.
According to Moon, the Dolphins are looking to be back at the Historic Swisher Gym by the week of Oct. 16. If the repairs are not completed by Oct.20, JU will be the host in part two of the River City Rumble at the UNF Arena.
__
For more information or news tips, or if you see an error in this story or have any compliments or concerns, contact [email protected].