Volleyball Road Recap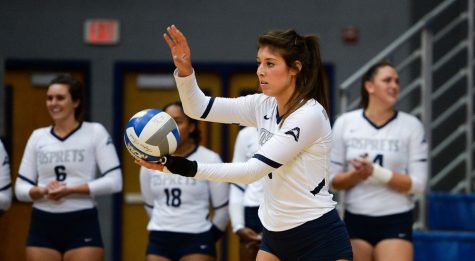 North Florida Volleyball (8-15, 1-6 ASUN) split the weekend with back-to-back games on the road against the Stetson Hatters and FGCU Eagles.
On Oct. 13, UNF had a hard fought win (3-2) against Stetson in DeLand.  
Head coach Steve Loeswick explained how the team got this victory.  "One of our best matches of the season tonight," Loeswick said."We did a great job of executing and staying aggressive for most of the match."
In the opening frame, the teams went back and forth with 12 ties, before the Ospreys made a strong run when both teams were tied at 16. UNF took the set 25-19.
The second set had the teams tied at 12 before the Ospreys took it away with Wheeler's help with multiple serves and kills. North Florida closed out the set 25-18.
The Hatters ran off with the next two sets(25-22, 26-24) to extend the match into the fifth set.
The final set was close with a tie at 12 once again. In the end, the Ospreys grabbed the last three points to seal a 15-12 victory.
With the win, North Florida earned their first ASUN victory of the season.  On Oct. 14, UNF got swept by FGCU 3-0 on the road in Fort Myers.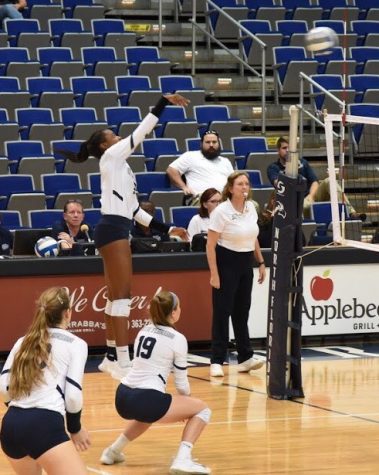 Coach Loeswick gave honor to FGCU's skill on their home court.  
"FGCU is a really good team and served us pretty tough tonight," Loeswick said. "We struggled to get into a system, but were able to keep the first two sets close."
The first two sets were close with multiple runs from both teams.  For the first set, FGCU took the lead early before UNF brought it within two points. Despite closing the gap, the Eagles made an 8-3 run to close out the set 25-17.
In the second set, UNF held the score close for a tie at 18 until FGCU went on 7-2 run for the 25-20 victory.  The last set was a blow out from the start behind FGCU's 14-5 opening lead. The Eagles hit a match-best of .458 while Ospreys had a discouraging -.069.
FGCU sealed the final set 25-14.  Ospreys won against Georgia Southern in the UNF Arena on Oct. 16 at 7 p.m.
__
For more information or news tips, or if you see an error in this story or have any compliments or concerns, contact [email protected].