Don't go hungry: Former President Bill Clinton visits UNF
Former President Bill Clinton made a surprise visit to UNF today for the launch of the Center for Nutrition and Food Security (CNFS).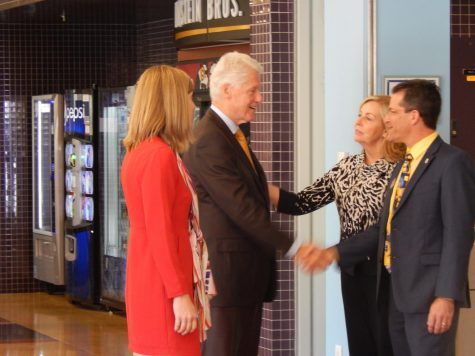 The CNFS, which is the first of its kind in Florida, is being overseen by Dr. Lauri Wright, an assistant professor and director of the doctoral clinical nutrition program.   
"Our center brings together faculty and students with the community for a collaborative, sustainable effort to find solutions to food insecurity," Wright said.
"Across the nation, we are seeing that college students in particular are at increased risk at having issues with food insecurity. The cost of education really is a challenge. There are estimates from 37 to over 40 percent of college students struggle to find enough food to eat."
Clinton's visit for the launch coincided with a larger visit to Northeast Florida in an effort to see the results of various Clinton Foundation projects in the area. Prior to coming to UNF, Clinton visited the Azalea Project, which helps at-risk mothers and children, followed by a short stop at the Orange Park Medical Center. Clinton's final stop was UNF, which partnered with the Clinton Health Matters Initiative to create the CNFS.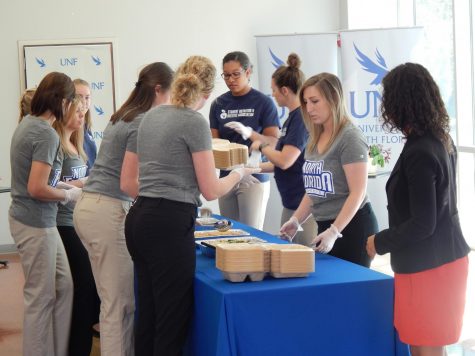 "The center has several projects within it. One of the projects is a community based hunger network," Wright said. "Another initiative is Food Fighters, a student powered hunger relief program."
Food Fighters is a program where students take excess food from campus locations and repackage it into healthy meals for those who struggle with food insecurity. Brianna Ballard, an alumna pursuing a dietetic internship at UNF, initially brought the Food Fighters program to UNF and Jacksonville in 2016.
"I went to a conference in Washington D. C. to learn about solving food waste as well as hunger," said Ballard. "Having the support of Jacksonville and the different communities, it kind of just built itself."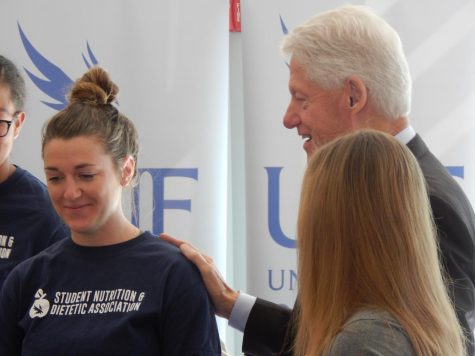 The CNFS, which is housed in the Brooks College of Health, has several other initiatives. Among these include projects focused on HIV nutrition and global malnutrition.
Clinton interacted with several students and faculty at the presentation, ultimately praising the efforts of the students and the university for tackling the issue of nutrition security. 
"This could have a huge impact on the health of the next generation," said Clinton. "I think you should be proud."
__
For more information or news tips, or if you see an error in this story or have any compliments or concerns, contact [email protected].