"It's okay to be white" signs found on campus
A student reported finding several signs that read "It's okay to be white" on campus.
The student said she found these signs in the women's bathroom at Founder's Hall, in a Spinnaker box and the bus stop Monday night. The signs were not found at these locations within minutes of the student reporting them, but pictures of the signs have been posted to social media.
A sign reading "It's Okay to be Capitalist" was found on a Spinnaker box at the Student Union Tuesday Nov. 14.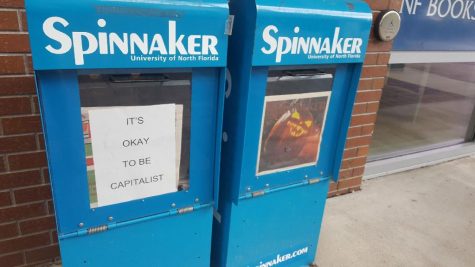 These signs have been appearing in different college campuses across the nation since Tuesday, including Harvard, Princeton, Auburn, and Berkeley. It's a trend that began in late October on politically-charged corners of the infamous message board site 4chan, intended to showcase that such a message would cause massive media uproar.
It has since gained momentum in far-right circles on the Internet and has become a far-reaching campus phenomenon, receiving much backlash from students and administration alike.
4chan users said they hoped backlash to the signs would sway moderate, white Americans to practice far-right ideologies, such as white nationalism and other veins of the so-called alt-right. The users contend that it serves as proof of the notion that left-leaning pundits and journalists hate white people.
Spinnaker is currently investigating the source of these signs. Anyone with information can contact [email protected].
Spinnaker also reached out to the university for comment but a response was not received by the time of publication.  We will continue to update this story as more information become available. 
__
For more information or news tips, or if you see an error in this story or have any compliments or concerns, contact [email protected].