Women's Basketball Weekend Road Recap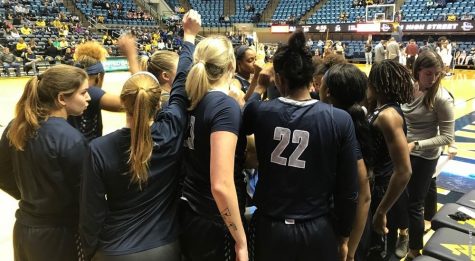 Women's basketball(2-2) split the weekend with a win and loss while on the road.
On Friday, North Florida edged past the Morehead Eagles(2-2) 61-56 at Johnson Arena in Morehead, Kentucky.
The first quarter began with the Eagles having possession of the ball and scoring seven points. The Ospreys got the ball back to bring the difference to 7-3. Over the rest of the quarter, the ball went back and forth between the two teams until the final score of the quarter was 21-15 in the Ospreys' favor.
The two teams continue to go back and forth with each other in the second quarter. North Florida held a 30-25 lead at the break.
Straight after the game resume, the Eagles responded with a three-pointer to cut the difference to two points. Morehead continued to take over the lead. At 4:56 in the quarter, the two teams tied with 36 points each.
The Eagles held a 46-38 lead heading into the fourth quarter. North Florida mounted their own rally in the last quarter to snatch the game away 61-56 for the victory.
Head coach Darrick Gibbs described the team play during the final stretch. "That was a great road win. We showed a lot of toughness and resilience in the fourth quarter," Gibbs said.
"Our guard play was really good down the stretch and we were able to to not only get stops, but create offense from our defense. Overall, this was a great team win."
The team closed out their weekend with a trip to Morgantown, West Virginia to face the West Virginia Mountaineers(3-0). North Florida fell 87-59 to the Big Ten for in the WVU Coliseum.
The Mountaineers started the first quarter strong with 5 points gained within two minutes of the game clock starting. The Ospreys followed with a basket of their own but the power of West Virginia's offense was strong. The quarter ended with the Mountaineers maintaining a 21-13 lead.
Despite made shots by the North Florida, the points deficit continued to grow in each of remaining quarters.
"I am pleased at how much we are competing and growing," Gibbs said.  "Challenges like this are helping us learn what it is going to take for us to consistently have success. I'm excited to see how we take these lessons and apply them to our next stretch of games."
North Florida next two games will be held at Swisher Gymnasium, for the JU Thanksgiving Classic. On Fri. Nov. 24 at noon, the Ospreys will face the Webber International Warriors. On Sat. Nov. 25 at noon, the Ospreys will face the Monmouth Hawks.
__
For more information or news tips, or if you see an error in this story or have any compliments or concerns, contact [email protected].