No Nazis at UNF: White supremacists outnumbered by protesters 25-to-1
[embedyt] https://www.youtube.com/watch?v=V2tAgJri5gQ[/embedyt]
Video by Andy Castro
Demonstrators gathered outside Alumni Hall to protest the presence of national socialists and white supremacists on campus. The group, "No Nazis at UNF," was formed as a counter-protest in response to members of the National Socialist Movement planning to demonstrate outside of Ken Parker's student conduct hearing. The disparity in attendance between the two groups was staggering, with about 100 counter-protesters and a mere 4 protesters in support of Parker.
The counter protesters gathered at 8 a.m. outside of Hicks Hall and marched across the street to Alumni Hall at 9 a.m. The group was comprised of members of Students for a Democratic Society (SDS), Students for Justice in Palestine, and other on-and off-campus far-left activist groups. Most held signs and banners with phrases such as "nazi punks f–k off" and "punch a nazi."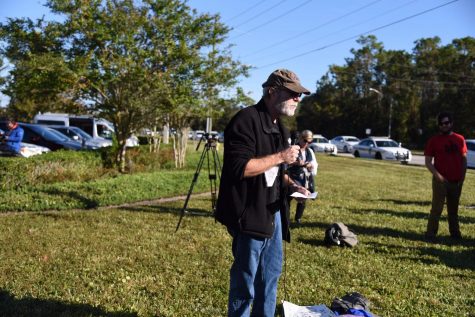 There were several guest speakers, many of which were UNF alumni and faculty members along with student activists. Speakers touched on a variety of subjects, including transgender rights, Zionism, and unequal wealth distribution. Members of the counter-protest group claimed the failure of the administration and student code of conduct to quell racism on campus has led to the current situation.
"I think it's really unfortunate that we're at this point now," said Mariah Joy, interdisciplinary studies major and SDS member. "And that we have to be here and essentially show Delaney this much that this is how much we care and that we need safety on this campus. Apparently he doesn't think so."
Shortly after the arrival of the counter-protesters, a small group of demonstrators arrived in support of Ken Parker. Among them were members of the National Socialist Movement (NSM), Ku Klux Klan, and League of the South, said Burt Colucci, regional director of NSM. Parker's fiance, Crystal Moore, was in also in attendance, holding a Confederate battle flag. The protesters claimed that the university was suspending Parker on account of his own personal beliefs.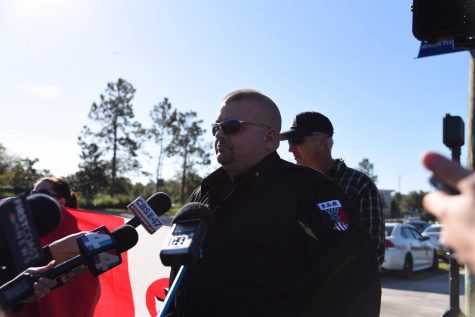 "We're not gonna be bullied," said Burt Colucci, regional director of the National Socialist Movement. "That's our message. We are absolutely not going to be bullied by the communists that stand over there with the Antifa flag and other people who think that the laws of this country only apply to them and the First Amendment only applies to things that they like are being said."
The two groups remained separated from each other for the duration of the event. Peace was maintained by the University Police Department alongside Jacksonville Sheriff's Office. Demonstrations remained civil and there was no outbreak of violence.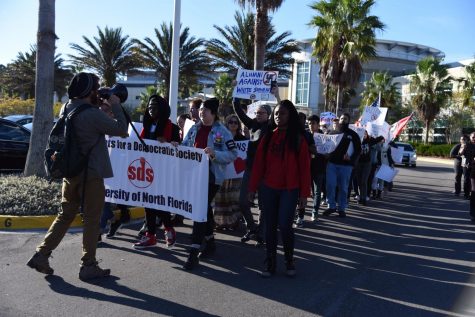 "Today's event was a beautiful site [sic]," said SDS president Monique Williamson. "It was amazing to see ospreys of all colors and political affiliations come together to push back against Nazis and genocide. We outnumbered them so it just goes to show you that hate and fascism will not win!"
The student conduct hearing was closed to the public and any further disciplinary action for Parker is not clear at this time. According to Delaney, Parker will be be notified of the panel's decision Monday afternoon or Tuesday. The decision will determine whether the student should remain suspended.
__
For more information or news tips, or if you see an error in this story or have any compliments or concerns, contact [email protected].