Don't Drop the Ball: New Year's deals on drinks and rides
Alexandra Torres-Perez & Samantha Chaney
December 30, 2017
New Year's is coming soon, and with it another excuse to drink and party the night away. While most are scrambling to find their New Year's kiss, we're scrambling to find the best deals on drinks and rides to save the money we all know we don't have. So, here are a some places to be on New Year's Eve to make your tab a little smaller than it should be. And who knows, maybe you will get that kiss (probably not).
Uber

Sadly, Uber fares will be higher than normal this year for New Year's Eve. While they are offering no deals to offset this cost, Uber does recommend that riders split the fare with friends or use uberPOOL, which matches you with other riders heading in the same direction. This is another means of sharing and reducing the overall cost of your ride.
Lyft

Lyft has teamed up with Budweiser for a second year in order to promote the "Give a Damn" campaign against drunk driving. In an effort to reduce drunk driving on New Years Eve. They've created limited time discount codes for vouchers available on Budweiser's Facebook and Instagram.
Farah & Farah

The Farah & Farah law firm is paying for your ride home on New Year's Eve in order to "KeepJaxSafe." Sign up here to receive a code that you can give to your cab or Uber driver and Farah & Farah will take care of the rest, including the tip. You can also call (904) 549-6434 on New Year's Eve to participate. Farah & Farah: protecting you and your family.
Bahama Breeze
On New Year's Eve, Bahama Breeze will have their Junkanoo Jam starting at 9 p.m. They're serving their $8 Legendary Island Cocktails for $2.18, so you can literally drink three drinks for the price of one. There's also giveaways and live music. Bahama Breeze will have extended hours, and will be open until 1 a.m. on New Year's Eve.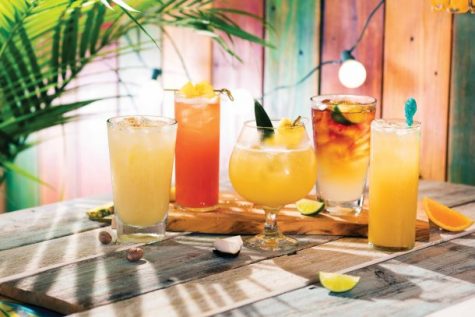 BJ's
BJ's usually has an all day happy hour occurring on Sundays due to football. In the case of the football game being cancelled, BJ's will have the late night happy hour from 10 p.m. to 11 p.m. when they close. Their happy hour offers $1 off draft beers, glasses of house wine, and cocktails, $2 bottles of domestic beer, $3 Barefoot wines, and $4 BJ's handcrafted beers and call drinks. Though you won't be able to celebrate the New Year here, you can definitely pregame and save a bit of money.
Applebee's
Applebee's will be open during its normal hours on New Year's, and will close at 1 a.m. Though probably not the place you imagine yourself to be during New Year's, they do have some great deals when it comes to drinks. They have a two for one special on beers, wine and margaritas. During the month of December, Applebee's has also been offering $1 long island teas, and New Year's is the last day of that deal. You can also pretend it's your friend's birthday and make them sing for your group.
Miller's Ale House
The casual sports bar will be open it's normal hours until 2 a.m. on New Year's Eve. Though they won't have any drink specials, they will have their usual drink deals that start at 10 p.m. and are pretty cost-efficient for college students. You can get pitchers of margaritas or sangria for under $10. They also offer a wide variety of cocktails that cost anywhere from $2 to $5.
Denny's
After a night out, sometimes all you want is some hot breakfast food and fries. Whether you're looking for breakfast or breakfast-for-dinner (it's a thing), Denny's is offering 20% off your total check with this coupon. It is only valid on Dec. 31.
Dave & Busters
From food and drinks to arcade games, Dave & Buster's is offering the perfect New Year's Eve party. You can choose from two packages, both of which include a dinner buffet, unlimited soft drinks and power cards to play with. The party goes from 9 p.m. to 12:30 a.m. Click here to buy tickets.
While you are out partying and hopefully saving, remember to always drink responsibly, and do not drink and drive on New Year's. We put the deals for the rides home at the top for a reason: stay safe and, more importantly, keep your friends safe. If you see someone is about to drive who probably shouldn't, call them a ride using one of these deals or arrange something else. Even if they are just a little buzzed, it's better to stay on the safe side. Happy New Year's, Ospreys.
__
For more information or news tips, or if you see an error in this story or have any compliments or concerns, contact [email protected].