UNF receives lower metric scores than expected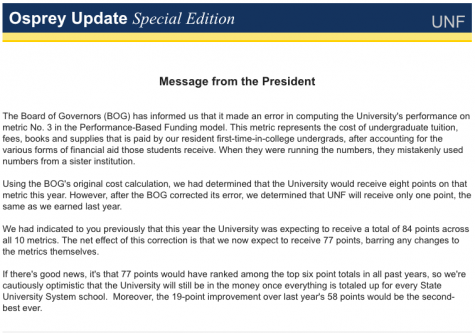 "Cautiously optimistic" are two words students don't necessarily want to hear when it comes to the question of university funding, but this was the vague reassurance President Delaney gave when reporting a lower performance score than initially thought for UNF.
The State University System of Florida has been using a Performance Based Funding Model since 2014 to determine how much state funding each Florida institution will receive per year. The awarded amount, according to the Florida Board of Governors, is generally based on "excellence or improvement" in each measured metric.
There are ten metrics in all, ranging on subjects from numbers of Freshman in the top 10 percent of their graduating high school class to six year graduation rates of current students.
On Feb. 8, President Delaney sent out a special edition Osprey Update notifying UNF students, staff, and faculty that the Board of Governors had made a computing error in the Performance Based Metrics for the 2017-2018 academic year.
The error was made when calculating Metric 3, which is scored based on the overall out-of-pocket expense first-year students pay after financial aid is calculated.
"When they were running the numbers, they mistakenly used the numbers from a sister institution," the Osprey Update explained.
"Using the BOG's original cost calculation, we had determined that the University would receive eight points on that metric this year. However, after the BOG corrected its error, we determined that UNF will receive only one point, the same as we earned last year."
As of the 2016-2017 academic year, the Board of Governors determined that institutions must score at least 51 total points and not be in the bottom three scores to be eligible for new funding.
In 2017, UNF scored an overall 56 between all ten metrics. Despite making improvements and reaching a total score above 50, the University ranked in the bottom three of state universities, along with Florida Agricultural and Mechanical University (FAMU) and Florida Gulf Coast University (FGCU).
For this reason, UNF was not eligible for state-investment funding when the new academic year rolled around.
This year, UNF is expected to receive an overall score of 77, resulting in a total improvement of 19 points over one year.
The 2017-2018 metric totals have not yet been reported, so it is yet to be seen whether or not UNF will graduate from the bottom three and receive state funding for the 2018-2019 academic year.
—
For more information or news tips, or if you see an error in this story or have any compliments or concerns, contact [email protected].