Award-winning UNF professor lectures on being a writer
Ever thought you'd be eligible for awards just for spending years thinking about murders and stripteases?
In 2008, UNF English Professor Michael Wiley was nominated for the Shamus Award by The Private Eye Writers of America for his novel The Last Striptease. In 2012, Wiley successfully earned the award for his third mystery novel A Bad Night's Sleep.
Wiley presented a lecture for Sigma Tau Delta's Brown Bag Series called "The Road to Monument Road: Facts and Fictions" on Feb. 15. The lecture focused on balancing the "double life" of being both an academic writer and a fiction writer.
"I try to keep the two sides of what I do separate," he explained. "I haven't taught creative writing classes, but it's something I would be open to. Many, if not most of our students, have these dual interests."
Wiley grew up in a household where his mother would read him a book a day, many of which were crime and mystery novels. As a result, these genres were his favorite from a young age. It wasn't until he pursued his undergraduate degree as an English major that he began to branch out into more academic content, though his love for fiction would remain constant throughout his life.
When he did finally try his hand at his own creative writing, he was mostly discouraged by his professors. Wiley humorously noted that even his mother told him he "might be a good writer when he had something to write about."
Finally, after several years spent as a broke freelance journalist and speechwriter, Wiley hit what he described as his "lowest point." He stopped writing creatively and decided to return to school.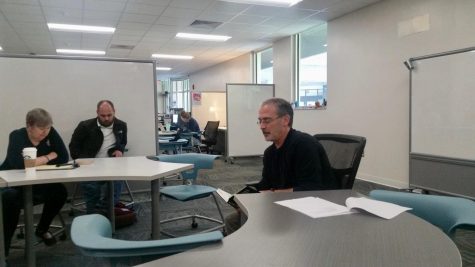 "I went back into academia, which is what I was told was my strong suit," he recalled.
It was decades later, after becoming a professor and father, that Wiley finally turned back to what he loved: Crime fiction. He continued his academic work, but began to reintegrate fiction writing into his daily life.
His first novel was finally published in 2004, and eight years later he would receive the Shamus Award.
After he found a balance between these "dual lives," Wiley described himself as always writing the next [book], with regard to both fiction and academia. The more he wrote, the more he came to understand and master the nuances of the writing process.
"An underrated part of the process is revision," Wiley said. "You have to learn to be the reader over your own shoulder. A good story becomes a publishable story only in that revision process."
Many of the questions that followed were asked by attending students and focused on the common anxieties of being a writer.
How do you keep writing when you're doubtful about your work? How do you find the discipline to sit and continue personal projects when you're busy in your academic life?
"Just keep writing, and always read with an eye towards writing," Wiley said. "Either doing it or not doing it. Whatever it takes."
When asked for one final piece of advice on balancing research and writing, Wiley's advice was simple, if not slightly philosophical.
"Don't write what you know. Learn to know what you want to write."
Wiley's newest novel, Monument Road can be found here on his website.
—
For more information or news tips, or if you see an error in this story or have any compliments or concerns, contact [email protected].