"I have never worked in a place with so much bullying;" Survey reveals faculty-on-faculty bullying at UNF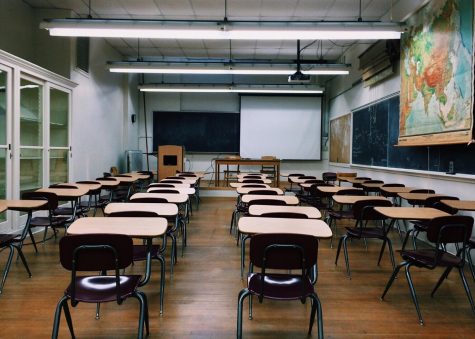 Bullying on campus isn't only relevant to students — A recent survey shows faculty have been victims of bullying within themselves for at least the last two years.
The Faculty Affairs Committee of the Faculty Association conducted the survey from Nov. 21, 2017 through Jan. 12, 2018 and sought to seek out if faculty-on-faculty bullying was a problem at UNF. 
52.21 percent of faculty members said yes to having witnessed a colleague being bullied in the past six months. 43.36 percent indicated that bullying did impact their career at UNF and 37.24 percent stated that bullying is impacting their own personal life.
Bullying at UNF, according to the survey, included threatening (both verbal and non-verbal), gossiping, especially in ways that impact colleagues' tenure and promotion and/or reputation, cursing and/or yelling/screaming, unwarranted monitoring, berating, isolating, intimidating, and demeaning, in both professional and personal ways.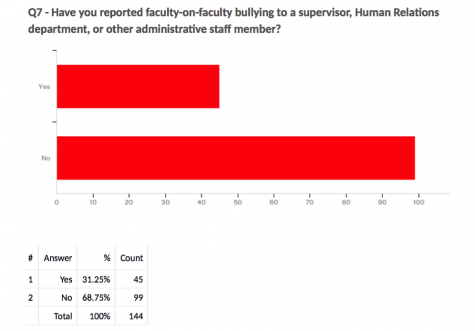 The survey shows 31.25 percent of faculty reported instances of bullying to Human Relations, a supervisor, or another administrative staff member. 68.75 percent said they did not report bullying.  UNF staff interviewed left these comments on the survey about why they left bullying unreported:
"There's no point in reporting it"

"It's largely ignored here"

"Faculty not comfortable reporting"

"There's no protection for someone being bullied"

"I kept it to myself and it's been horrible"

"I cannot imagine reporting it"

"You have to suck it up and take the hits"

"[this] won't change anything"

"This is not what I had visioned for UNF"

"Those who complain can be sure someone above will get even"

"I have never worked in a place with so much bullying"

"We do not have the freedom to report the bullying"

"The administration has repeatedly failed to provide a forum"

"Administration does NOT listen about bullying"

"Shoddy investigations, biased final reports and absurd conclusions should not be the norm"
In the survey, respondents suggested "cultural changes" to prevent bullying and to implement  policies to protect those who do report bullying in the workplace.
Two respondents who did not wish to identify their gender reported that they were a target of bullying. One transgender faculty reported she was a target of bullying. 57 percent of female faculty and 42 percent of male faculty reported being affected by bullying.
The largest amount of bullying on campus, according to the survey, happens in the Carpenter Library, College of Education and Human Services, the College of Arts and Sciences, and the Brooks College of Health.
David Fenner, Associate Dean of Arts & Sciences and Vice President of Faculty Associations said complaints of bullying have been coming to the committee for the past two years. He said he did not, however, expect it to be this bad.
"We all looked at [the data] in the Faculty Affairs Committee and I was really shocked," Fenner said. "I was surprised with how many faculty responded with either 'yes I've witnessed faculty-on-faculty bullying' or 'I have been the victim of this kind of bullying.' I had no idea the numbers would come in this high as they did."
A small task force was formed Feb. 15 among the Faculty Affairs Committee to propose changes to the Faculty Affairs Committee that would then be sent to the Interim Provost Pamela Challey to tackle bullying. The members of the taskforce include Fenner, Religious Studies Program Coordinator Julie Ingersoll, and Associate Professor of Nursing Cynthia Cummings.
The task force has since spearheaded four proposals; Including a statement to investigate formal bullying complaints in the faculty handbook, creating a formal UNF policy to enforce repercussions for faculty bullying, educating faculty on identifying bullying, and creating a mechanism where faculty can explore how to report faculty-on-faculty bullying.
The revision of faculty handbooks will likely be the first proposal to go into effect. Fenner says the current version of the faculty handbook only mentions research misconduct will be investigated, not bullying.
Fenner believes this amount of bullying is not abnormal.
"I think our findings would be the findings of any university like this. We just happened to dig into it because it was an issue that was raised," Fenner said. "But if other universities that are similar in size and scope to ours… I'm confident that you would find very very similar results."
__
For more information or news tips, or if you see an error in this story or have any compliments or concerns, contact [email protected].