Behind the scenes of 'Dolphin Tale': Winter the dolphin's trainer speaks at UNF
Video by Carly Kramer
In the winter of 2005, a two-month-old dolphin was found ashore entangled in a crab trap in Clearwater, Florida. Six years later, she became a movie star.
Named after the season in which she was rescued, Winter's true story is told in Dolphin Tale, the 2011 film by Charles Martin Smith. She plays herself in the film, but her performance wouldn't have been possible without training by Abigale Stone.
The trainer of Dolphin Tale visited UNF April 17 as part of the Brotman Family Coastal Biology Lecture Series and the UNF Coastal and Marine Biology Flagship Program.
After her first visit to Clearwater Marine Aquarium, Stone knew she wanted to work with animals there.
"I recall wanting to work with animals from a very early age," Stone said. "When I was in middle school, I visited CMA and I knew I just wanted to work there."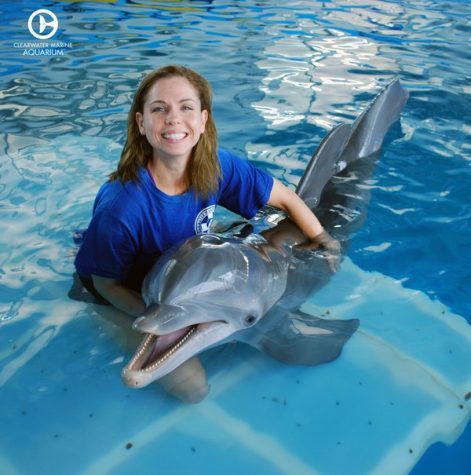 For this very reason, Stone stayed close to home and attended Eckerd College in St. Petersburg. She frequently volunteered with CMA before eventually getting hired. She says that her degree in psychology helped her understand the personalities of the animals she worked with.
"Most of my time spent with managing dolphins has been behavioral conditioning," Stone said.
After Winter's rescue, she was brought to CMA to be examined. It was found that the crab trap had cut off circulation of her tail, thus it needed to be removed. This called for a prosthetic tail in order to ensure Winter's ability to swim. Stone was part of the team that created the tail, and also Winter's main trainer for it. She says that a lot of trials and expert opinions helped to make a device that was comfortable and functional for Winter.
Before production took place, Smith spent some time at CMA studying the behavior of the animals. He then identified behaviors that he wanted to capture in the film, which Stone then planned for a way to train the animal.
"We would take a behavior and break it down into smaller steps that are more achievable for the animal," Stone said on making these desired behaviors teachable.
Another key part of training was desensitizing the animals to film equipment. A change of normal habits can make an animal feel stress. During her lecture, Stone recalled that it took two days to film a green sea turtle moving about five feet from shore to the ocean using a green screen. However, time is money in Hollywood, so animatronics were often used when an animal wasn't feeling up for a scene. The main concern of the filmmakers was the comfort of the animals, so overdoing them wasn't an option, according to Stone.
A number of animals in the film were already residents of CMA, but some of them were brought there after production had wrapped. Stone had the opportunity to grow close with all of the animals she worked with.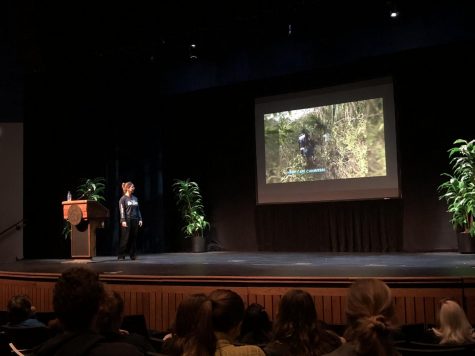 Aside from training animals for their film debuts, Stone also works to educate visitors of CMA on conservation. She currently works as a Stranding Coordinator, helping to manage the rescues of animals stranded on the shore. Stone then took this opportunity to remind everyone to refrain from approaching stranded animals on beaches and to call aquariums or animal control instead. Though Dolphin Tale features a child finding and rescuing Winter, Hollywood can often depict a different chain of events.
"There's a story that's created for entertainment value," Stone said. "That's why we need to be very proactive in educating our guests when they visit our aquarium or even our website."
Despite the Hollywood flare, Dolphin Tale's story is still told in a touching way and was a unique opportunity.
The film got a sequel, Dolphin Tale 2, in 2014, which shares the rescue story of Hope, another stranded dolphin. Stone had the opportunity to work on both of these films.
CMA continues to grow with the addition of its 1.5 million gallon pool for resident animals and the Fred Howard Park Rehab Center. Guests who visit the aquarium have the opportunity to see Winter and Hope right before their eyes. You can visit the CMA website to learn more about their conservation efforts, resident animals, and even view live coverage of Winter.
Stone closed with reminding the audience that their doings can change the world for animals.
"Our actions have a really big impact on wild animals," Stone said. "Identifying what actions we can take on a day-to-day basis will improve conservation efforts. It's important that the movie has brought awareness in the work that we do and we have to pick it up from there."
—
For more information or news tips, or if you see an error in this story or have any compliments or concerns, contact [email protected].