Letter from the Editor: Joining the call to #SaveStudentNewsrooms
Loss of student media outlets threatens transparency at colleges around the nation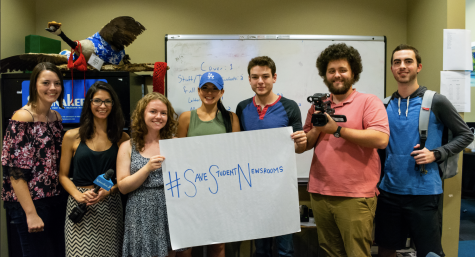 By the end of the Spring 2018 semester, The Louisville Cardinal will no longer receive funding from the University of Louisville.
This means the Louisville student media center will have to operate solely from advertisement revenue and donations. A feat that's not so easy in today's advertising climate with the rise of Facebook and Google ad options.
Louisville is not the only one.
The Amherst Student. The Current. The Bulldog. The Daily Campus. The Sunflower. The Review. The Daily Free Press. The Argas.
Some of these student publications faced budget cuts for publishing stories critical to their university, A bold violation to their free speech rights.
Spinnaker operates partially from ad revenue, but the bulk of our funding is allocated from student fees by Student Government. In many cases, university funding can lead to censorship. It forces students to ask themselves if publishing an article exposing wrongdoing will cause them to lose their paychecks.
Publishing stories critical of a university is not a crime, It's a service to the community. It's not a cause for university student governments around the country to decrease funding for student journalism. Student journalism is not the university's PR department.
If we allow this to happen within university life – what precedent does that set for the U.S. government? While the U.S. government doesn't fund national media outlets, it's an important question to ask. Would you want the president of the U.S. to threaten publications critical of him by decreasing their funding?
These concerns are why Spinnaker is joining the #SaveStudentNewsrooms movement started by The Alligator at the University of Florida. The movement calls for university editors to report censorship, submit testimonials of the importance of student newsrooms, and publish editorials highlighting the need for student media and the importance of supporting it.
During my time as Editor-in-Chief for Spinnaker, I have not experienced any censorship issues within the university. Records requests are always fulfilled and are only sometimes delayed. However, Spinnaker's funding from student government received a 13% budget cut for the 2015-2016 school year. Print products were reduced and many student positions were nixed because of the change in funding. We now focus our efforts into our 24/7 online news site and news app and rely a little heavier on volunteers.
Since then, Spinnaker funding was combined to one line, allowing our media center to allocate funds as necessary for wages, equipment, and digital services. The bulk of our funding goes towards employing students.
Student newsrooms, like professional newsrooms, may be struggling for funding — but if newsrooms around the country mimic our own at the University of North Florida, they are not struggling from a lack of passion.
Since this reduction in funding, I've seen more student journalists working more hours than their paid for and most working for free. We are still telling the same important stories.
We are still attending university meetings, following up on crime on campus, holding university and city governments accountable, all while going to classes, working part time jobs that actually pay us and completing internships. Nobody goes into this profession for the money. We do it because we care.
But we can't let lack of funding stop us. We can't let the stories of our communities go untold. We can't let journalism become a profession that only those who are well off can pursue. We can't let low-income students be dissuaded from pursuing this career because of finances. Our voices are needed now more than ever.
Join us in our efforts to help student-run media survive and assert our legal rights. Tweet #SaveStudentNewsroom, share this article, anything that helps keep the conversation going.
__
For more information or news tips, or if you see an error in this story or have any compliments or concerns, contact [email protected].