Don't slip up on Childish Gambino's 'This is America'.
Donald Glover, better known by his stage name Childish Gambino, released his latest single and accompanying video for "This is America" Sunday after a performance on Saturday Night Live.  

[embedyt] https://www.youtube.com/watch?v=m1xkLqd1wdU[/embedyt]

The song, featuring 21 Savage, Young Thug, Blocboy JB, Rae Sremmurd's Slim Jxmmi and Migos' Quavo, alternates between happy-go-lucky, gospel-influenced singing and rapping over a heavy beat. The video compliments this contrast, with images of young people dancing and choirs singing only to be abruptly stopped after being violently shot and killed by Gambino.

"This is America," Gambino raps, after shooting a man in the head, "don't catch you slippin' up." This image was shocking at first, but after listening to the rest of the song and watching the rest of the video, it made sense.

Gambino dances through and explores an underground parking garage populated with all black people, both young and old. "Police be trippin now," he raps, referencing previous incidents with police brutality and gun violence. "Guns in my area, I got the strap, I gotta carry 'em," he says.

[embedyt] https://www.youtube.com/watch?v=VYOjWnS4cMY[/embedyt]

The video continues with Gambino not just shooting and killing one person, but an entire church choir. The musical and visual juxtaposition represent how quickly the public can go from being outraged about something to returning back to living happy, simple lives. This is demonstrated in society every time—I hate to say it—another shooting occurs. The public is angry, there are demands for change, tears are shed and fists are pumped but suddenly everything goes back to normal. And then the cycle repeats, as he shows, leading back into the light-hearted bridge and more dancing.

The video was made to have a political message and it is evident that Gambino used the shock factor to his advantage. Two days after its release, the video already has 35 million views (and counting) on YouTube.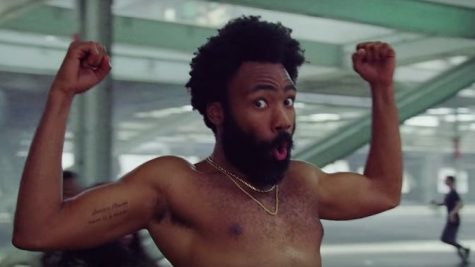 Musically, the song  takes influences from his last record, "Awaken, My Love!", which was a purely rhythm and blues album, but Gambino still gets to do what he does best, rapping. His creative lyricism combined with intense delivery is what makes this song so memorable.
With a new record deal, a full United States tour (appropriately named the 'This is America Tour') and a new album on the way, this song is just the beginning of what Glover/Gambino will have in store this year. The man always seems to have multiple tricks up his sleeve, and now we just have to wait and see what he pulls next.
—
For more information or news tips, or if you see an error in this story or have any compliments or concerns, contact [email protected]