UNF student organizes volunteer opportunity to feed the homeless on journey to starting her own nonprofit
Starting a nonprofit organization may not be the easiest endeavor for a full-time college student, but one Osprey has taken to the streets to encourage empowerment and philanthropy around the nest.
On Saturday, July 14, UNF Child Psychology Senior Dasia Brown and 14 other volunteers came together to provide food bags and home-cooked meals for homeless community members in Hemming Park. A total of 45 to 50 bags were passed out in the span of about ten minutes, but the generosity doesn't end there.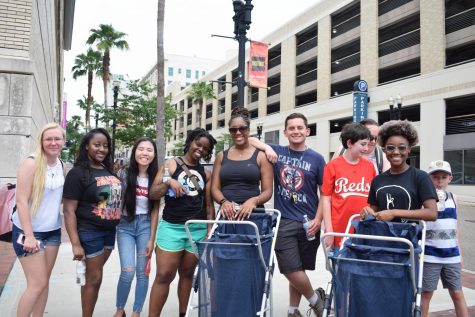 "It was just something I was doing on my own with my other friends," Brown told Spinnaker. "And then word got out with my coworkers, and a lot of them wanted to help. And then more of my friends wanted to help, as well."
With a minor in Social Welfare and a history of volunteering at foster and group homes, Brown's dedication to the community is apparent. Moreover, according to Brown, this most recent volunteer opportunity was in conjunction with a new nonprofit organization she is starting on her own.
"Crawl, Walk, Run: From Teens to Queens" is Brown's nonprofit organization aimed at female empowerment and "inspiring teens from middle school and up to recognize the royalty within them," according to the organization's Facebook page.
"My philanthropy behind [Crawl, Walk, Run] is community service and just helping out your community in any way you can," she explained. "So I went and got an actual permit so that we can be official when it comes to giving out food to the homeless, because I do that a lot."
Brown reportedly aims to continue hosting these volunteer events on a monthly basis. The next will take place in either August or September, depending on student availability at the start of the fall semester.
If students want to volunteer with or donate to Crawl, Walk, Run, they can find Brown's non-profit page here or contact her directly on Facebook.
—
For more information or news tips, or if you see an error in this story or have any compliments or concerns, contact [email protected].