New school, same attitude: Season 3 of Last Chance U continues to deliver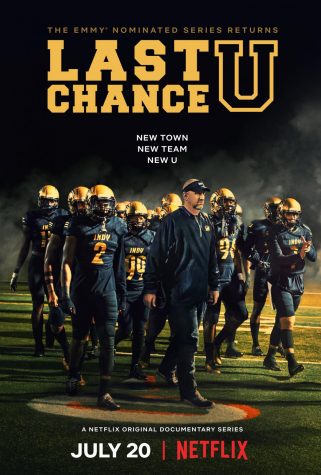 For a high school football standout, the goal since childhood has been to sign to a Power Five school. When that school doesn't pan out or players can't follow team rules, they have no choice but to go the JuCo route. After two seasons of shooting Last Chance U at East Mississippi Community College, the newest season takes place in Independence, Kansas: home of the Independence Pirates.
Junior College football is not the mainstream sport and Greg Whiteley, the director, shows how football is like a religion in Independence. Residents of Independence were interviewed, and they talked about how traditional the town is.
In the past two seasons, East Mississippi Community College has been used to winning and the biggest obstacle was being on top of its players. One of the most infamous scenes of Last Chance U was a game against Mississippi Delta, where a brawl occurred between the two teams. Debris was thrown onto the field, the game had to be called and EMCC was disqualified from the rest of the playoffs. That was one of the darkest endings for an episode of Last Chance U.
The relocation to shoot in Independence was the right decision because filming another season at EMCC would cause the series to become stale. At Independence, the residents are very conservative, and once they saw Coach Brown in game one, they had some reservations. Jason Brown is as hard-nosed as it gets. He arrived at Independence after leaving his old job at Garden City Community College. In the new season, Brown reveals that he and Garden City's head coach got into a scuffle. Brown was raised in Compton, California and uses his toughness to motivate the players throughout the season. He constantly yells at and curses out his teammates, but he's doing it out of love. Every episode, he tells the team that he loves them at the team meeting. As much as he rags on the team, it's his coaching style that ultimately gets wins. Independence had not won a conference championship in 30 years, so Brown was looking to make history during his tenure as head coach.
Whiteley, the aforementioned director, continues to tell the players'  story of how they got to Independence and document how they behave in the classroom, as well as on the field. In this season, the student-athletes come from various backgrounds. The starting center used to live in a camper in Nevada. Another player is at his fourth college in three years. With these different backgrounds, each player has different motivations to get out of Independence and start their professional careers.
Malik Henry was the number one high school football player in 2016, but after violating FSU's team rules, Henry was recruited by Coach Brown to Independence. Henry is a talented quarterback but has a tendency to jaw with the coaches when he disagrees with their coaching style. Because of Henry's antics, Brown sat him in a couple games throughout the season. The former Seminole hurt his ankle late in the season, but continued to grind and, ultimately, led the offense to a conference championship.
Carlos Thompson was a transfer from Texas Tech and had a hard time committing to the team and practicing. In one of the episodes, Coach Brown kicks Thompson off the field for not being focused and chirping to the coaches. As the season goes on, the wide receiver/kick returner has a leadership role with the team, which motivates his fellow players, as well as himself. After the season, Thompson transfers to Missouri Western State to continue his football career.
One of the most influential people at Independence Community College is Latonya Pinkard, an English teacher who helps the players get on the right track. Pinkard organizes book clubs for the players and helps them after class to better understand the content. At the beginning of the season, the players had a hard time going to class and getting good grades. Pinkard reminds them that they are students first.
This newest season of Last Chance U has given viewers a new team to root for and gears them up for college football season, which will be upon us soon. We have seen Coach Brown rebuild a program from the ground up, and I can't wait for season 4.
—
For more information or news tips, or if you see an error in this story or have any compliments or concerns, contact [email protected]