Opinion: Congratulations on graduating, and may the best come your way!
When one stops to think about graduation, it brings shivers and even stress. Everything must be perfect: the outfit, the cap design, the makeup…everything. Really, the graduation ceremony is ironically simple because it is a moment where people have their names said into a microphone, take pictures with their diplomas and move on for the next person to do the same. So, what makes this moment so memorable?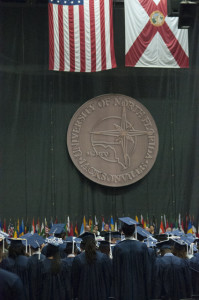 Well, it is rightfully the most exhilarating time of our lives. Yes, it is the beginning of adult life for several of us, hence the word commencement. You deserve to feel special because you are. You should show off your many cords and your great regalias. You should sit next to your friends feeling this anxiousness for your name to be called.
Smile your brightest smile to that camera, shake hands, and walk off with the rightful sensation of awesomeness. This is your last step as a student and your first step into the rough but exciting life ahead of you. Receive the several hugs, kisses and accolades from your loved ones. Be cheerful, be hopeful and feel satisfied. You've aimed high, and you've reached it.
It is a moment of joy where we get to exude pride in our accomplishments to our loved ones and to others. It is the moment you realize how hard you've worked, how much sleep you've lost, how much money you've spent, and so on. When looking back, it is quite amazing. Yes, future graduates, whatever you've done to come this far and walk this stage is amazing because not many people get to do so for several reasons.
So, as simple as a graduation ceremony is, it is much more symbolic. Enjoy every single second of your hard work. No one could have done this for you but yourself. So you must reward yourself and hold your head high.
The best is yet to come, and you know you'll work relentlessly for that to happen, as well. Congratulations on graduating! Also, hello to you, new UNF Alumni. Enjoy the best day of your life yet.
—
For more information or news tips, or if you see an error in this story or have any compliments or concerns, contact [email protected].