A one-on-one take with Democrats top five candidates
On the evening of Aug. 9, five Democratic candidates came together at Jacksonville University to talk about policies and what makes them unique in order to poll as the majority candidate in the upcoming primary election.
Kristian Thomas, a broadcast journalism senior at Florida A&M University, was home for summer vacation when she heard of the forum. She decided to attend to become more informed.
"The things that are being discussed are going to change the platform of Florida as we know it. With wages being upped or coming down, it doesn't matter because we need to know the things that are going on," Thomas said. "We need to be informed in general because if we are going to be Floridians, we need to know what's going on in our state. That's just simple."
The forum was a one-by-one talk with each of the candidates and News4Jax Political Analyst Kent Justice. Each candidate had approximately ten minutes to answer Justice's questions. The questions centered around the individual candidate and their experiences and promises to Florida citizens.
After the forum, Spinnaker reporters were able to ask each of the candidates their stance on lowering costs of college for current and prospective students.
Philip Levine
The Former Mayor of Miami Beach focused his ten minutes on a variety of topics such as immigration, President Trump, gun reform, and legalizing marijuana.
"I believe the state of Florida needs to legalize marijuana, regulate it and tax it," Levine said.
As the mayor of Miami, he stated that he decriminalized marijuana to stop ruining people's lives by putting them in jail.
When it comes to sanctuary cities, Levine had strong opinions about the work done by the federal government and the local government.
"We need to be a tolerant state," Levine said. "We need to enforce federal immigration laws, but they need to be enforced by the federal government."
Levine went on to say that local government shouldn't be the ones to arrest illegal immigrants because that is the federal government's job.
For Levine, school safety is a priority and said so in his forum.
"We cannot afford to not make our schools safe," said Levine. His plans for gun control include banning assault rifles, changing the gun show loophole, having stronger background checks and putting a focus on mental health.
Levine did not last the forum without a jab at the Republican party and its candidates.
"The last thing that we want is for Donald Trump to take over the state and have mini-me Ron DeSantis," Levine said.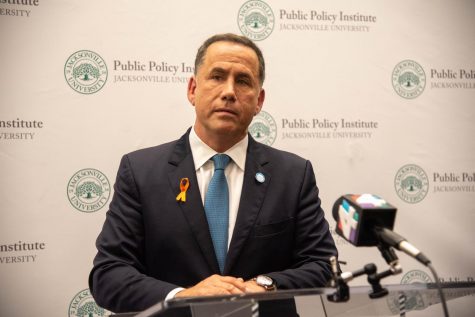 Levine looks at a college education as something that should be accessible for all students in Florida.
"If you are in team Florida and you are a Floridian and you want to go to college but your parents can't afford to send you, we're going to send you debt free as long as you will commit to work in the state of Florida for a certain amount of years," Levine said. "What that does is contain the talent in the state."
This free college plan is similar to the one being enacted in New York. This idea not only applies to students who are native born, but any and all students who graduated from a Florida high school.
"We don't know who the next Einstein is," Levine said. "But we need to make sure the next Einstein comes to Florida, and we need to make sure that they can go to college."
Jeff Greene
Greene's biggest talking point in the forum was education.
"Right now in Florida only 56 percent of 3rd-grade students can read," Greene said. "Your education should not matter on your parent's paycheck or the zip code you were born in."
Greene focused on Pre-K education, saying he would mandate it for free to ensure all children learn to read. According to Greene, 19 percent of Florida 12th graders are in 12th grade-level math classes and 36 percent read at a 12th-grade level.
"Nobody said it is going to be easy, but it is a matter of setting our priorities," said Greene on an additional year of Pre-K for 3-4 year-olds for all Floridian students.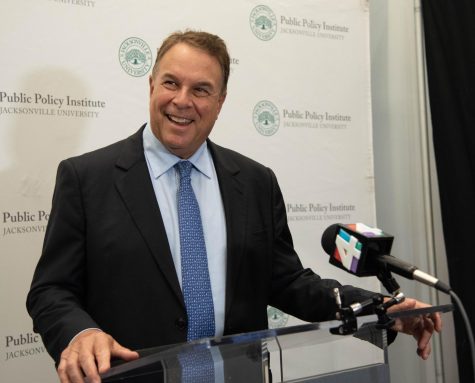 Greene said his opportunity to attend John Hopkins was on student loans. It helped him get where he is today.
"The cost of education is a huge issue," said Greene. "I understand the importance of funding being available for kids to go to college."
Gwen Graham
"We don't have another election to give in Florida," said the former PTA president and congressional district Representative, who mainly discussed improving healthcare, experience, and voting based on facts.
Graham said her commitment to healthcare sets her apart from other candidates.
"We can reduce our cost by doing what I call a Public Option," Graham said. "Most expensive plans will be reduced in cost and all those savings will be put into education."
Graham also ensured she is not a career politician. She said she didn't ever see herself running her own campaign but now is committed to putting her plans into action.
Graham also said she does not vote by party line.
"Making decisions based on facts is what we should all do," Graham said. "I think we've got to be in a position where we're informed on the issues and then make a decision that's in the best interest."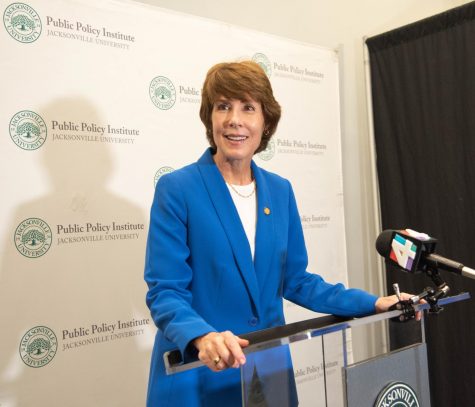 She also wants to focus on decreasing the cost of education.
"We have got to find a way to drive down the cost of college. The fact that students who are graduating who have debt they have to worry about for the rest of their lives means they cannot pursue their dreams," said Graham. "We need to make sure we expand Bright Futures."
Andrew Gillum
Gillum stated that he is the most progressive candidate running for governor. He was endorsed by U.S. Senator Bernie Sanders.
Gillum believes healthcare should be a right for all. He says he believes that Florida should expand healthcare because there are too many people in this state who are terrified of getting sick.
"I am the only candidate in this race who is for Medicare for All," Gillum stated proudly. "Under Medicare for All, we will save the system over 2 trillion dollars."
One of Gillum's other major talking points in the forum was the raising of minimum wage to $15 an hour.
"I don't believe if you get up every single day working 40 hours a week you should live in poverty," Gillum stated.
Gillum has plans to increase a corporate tax rate and spend the money on a public education fund.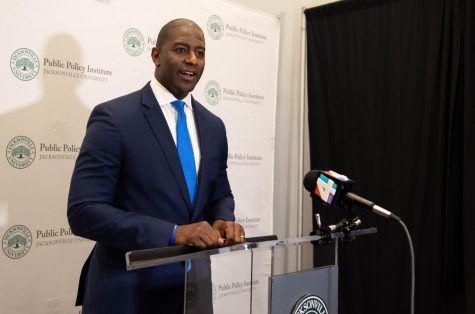 "We have got to make sure that college and trade schools are more accessible and affordable," Gillum said. "For those ready to go to college, if you are willing to go to work in a high need area, here in the state of Florida we are willing to pay for your education."
Chris King
King said he is lifelong Democrat and a lifelong progressive. He sets himself apart from the other candidates with a few topics that he holds important: gun violence and the death penalty.
"The NRA bears a responsibility", King said when it comes to the wave of mass shootings. King has proposed a "bullet tax" in Florida to pay for gun violence prevention. This would protect children and schools who may fall victim to gun violence.
King is the only candidate who vocalized his opinions of the death penalty.
"I would do everything in my power legislatively to not sign those death penalties as governor," he said.
King also spoke about the possibility of having legalized marijuana in Florida. Once skeptical of recreational marijuana, he now wants to legalize and tax marijuana in the state of Florida. He believes it will help people stay out of jail and boost the economy.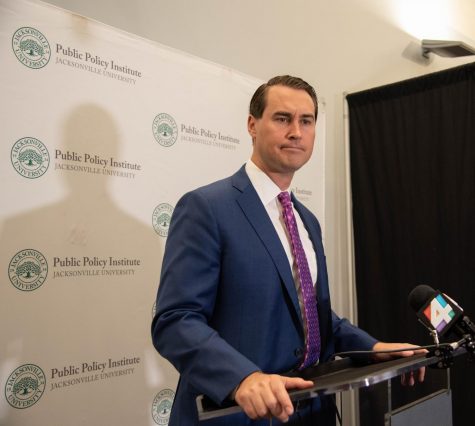 When asked about education, King said he believes there should be more access and affordability.
"I am the only candidate in this race that has advanced the idea of free community college," King said. "I think one of the biggest and boldest ideas to reduce college debt and create a workforce where wages are lifted."
The Primary Election will take place on Aug. 28, and early voting starts on Monday, Aug. 13. Follow Spinnaker on Facebook and Twitter for upcoming election coverage.
—
For more information or news tips, or if you see an error in this story or have any compliments or concerns, contact [email protected].