Taking the "why?" out of UNF's new WiFi
*Correction 8/27: Alison Cruess was cited as the project director. She is the UNF Project Director of Communications and Training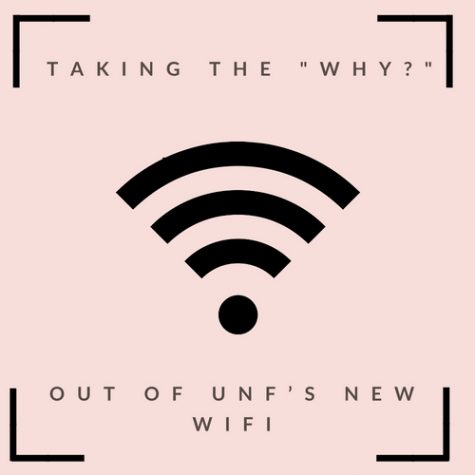 UNF's WiFi was changed to a new network over the summer, leading to many questions and concerns from students. Thankfully, Spinnaker was able to get in contact with UNF Project Director of Communications and Training, Alison Cruess to discuss the reason behind the change.
According to Cruess, the new WiFi project was implemented in response to students' complaints in the past semester.
"Our network is pretty old and students have just not been getting the service they expect," Cruess explained.
This new connection is reportedly being implemented in phases. Each phase transitions a portion of the campus, starting from the most important "academically inclined" areas. The "UNF-Wireless" network was first introduced to residence halls, providing students a better connection to complete their school work from the comfort of their dorm.
The most interesting aspect of the new WiFi as it pertains to UNF residents is the new "UNF-Visitor" option. This separate network allows for connection to smart TVs, Roku remotes, game stations, printers and other non-mobile technology.
Other areas with access at the moment include Coggin College of Business, Skinner Hall and Schultz Hall (a full list can be found here). The Student Government and ITS are also partnering together to provide wireless access funding for the Thomas G. Carpenter Library.
So what makes this new WiFi so great?
"It provides triple the amount of wireless access. It's just more dense, with faster speed and more access points," Cruess said. "If you talk to students living in housing, you will find they noticed a much better experience."
Rather than having to reconnect to the WiFi when users switch buildings or areas of campus, this new system will automatically find the closest and fastest access point.
Cruess described the system as "smarter," stating that it is "following you to make sure you always have the best experience possible."
—
For more information or news tips, or if you see an error in this story or have any compliments or concerns, contact [email protected].