First week of September hits hard; A weekend recap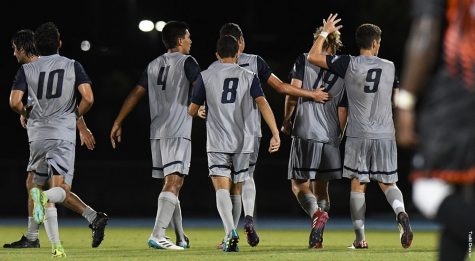 Men's and Women's Soccer as well as Volleyball competed this weekend in key matchups.
Men's Soccer
Men's Soccer had a tough weekend as the Ospreys lost on the road to Georgia Southern in a 3-0 defeat before continuing their road trip to take on no. 23 Tulsa. North Florida bitterly lost to the Golden Hurricanes, 3-2. North Florida currently sits at 0-4 ,and have another chance to break the slump, when they travel to Colorado to take on the Air Force Falcons on Sept. 7 at 9:30 p.m.
Women's Soccer
The Ospreys started off their weekend with a commanding 3-0 win over Winthrop Eagles. North Florida greatly benefitted from the goals of Freshman Kendra Hoffman, Julia Martin, and JJ Bryant. Pesky weather canceled the Ospreys second game against the Manhattan Jaspers and foiled their chance to end the game with a win. The Ospreys were leading throughout the game before it was called off. North Florida will travel to North Carolina and battle the Appalachian State Mountaineers on Sept. 6 at 7 p.m.
Volleyball
It was a sour start for the Ospreys after falling to the Tennessee Volunteers, on the road, 3-2. Shortly, North Florida ended up losing to the Winthrop Eagles, in a close contest, 3-2. The Ospreys then shutout Georgia Southern on Tuesday, Sep. 4. Gabby O'Connell had quite the performance as she recorded 16 kills and 10 digs. The squad returns home to UNF Arena on Friday, Sept. 7 at 7 p.m. against New Mexico. 
—
For more information or news tips, or if you see an error in this story or have any compliments or concerns, contact [email protected]