Women's Soccer ties with Stetson to begin conference season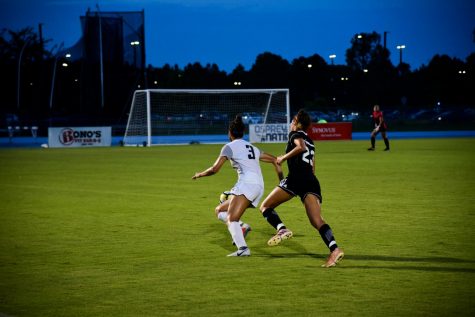 The University of North Florida (5-3-1 Overall, 0-0-1 ASUN) settled for a draw in their conference opener against the Stetson Hatters (3-4-3 Overall, 0-0-1 ASUN) at home. The match went past full-time and into sudden death. In the first half, the Ospreys came out aggressive. They were able to create early scoring chances, but could not find the end of the net.
Both teams continued to look for scoring chances. Stetson nearly found the net in the thirty-first minute, but it was ruled as an offside infraction. Shortly after, Sophomore Andrea Sanchez put North Florida on the board with a rocket from quite a distance. The first half ended with North Florida leading Stetson, 1-0.
In the second half, the Ospreys came out and pressed the Hatters. Stetson continued to counter the Ospreys and look for scoring chances. By the seventy-eighth minute, Junior Lindsey Parent broke through the Ospreys defense and scored to tie it up. 
Both teams fought until the end of regulation with an even score. With the game going into sudden death, both teams geared up for a dogfight. After two more periods of sudden death, neither team could find the go-ahead goal to grab the win.
"I think some takeaways are that we just need to not shut off and pick our intensity up," Redshirt-Sophomore Goalkeeper Rhiannon Conelley said.
"I think it's good to learn from this," Andrea Sanchez said. Despite scoring her first goal in her UNF career, Sanchez remains locked in on the games ahead.  "We have a big opponent on Sunday, we need to give everything," she added.
The Ospreys have a short break before they face possibly the biggest test of the season when the FGCU Eagles (7-0-2 Overall, 1-0-0 ASUN) come to town. Kickoff is on Sept. 23 at 1 p.m. at Hodges Stadium.
—
For more information or news tips, or if you see an error in this story or have any compliments or concerns, contact [email protected]