UNF Healthy Campus Week 2018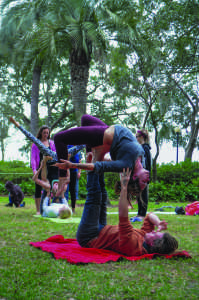 We have all heard of the notorious Freshman 15, and the stereotype may be a bit hyperbolic, but it does hold a certain amount of truth. The fact of the matter is that eating healthy and being active in college can prove to be very challenging. Between work, studying and hanging out with friends, when does anyone actually have time to go to the gym?
Thankfully, UNF's health and wellness resources, along with the Nutrition and Dietetic Department, have put together a week of events that will help you learn how to manage a healthy lifestyle while also having fun!
Student Wellness Complex
Want to, "Shake Shake, Shake Shake-a Shake It" while also spin spin, spin spin-a spinning it? Check out the middle school blast from the past spin class. Want to cure your music fest fever while also finding your zen? Grab your favorite pair of glow in the dark socks and head to the Glow Yoga Party.
You can find a full list of special health week classes here.
Tuesday, Sept. 25
Refresh at Starbucks
From noon to 2 p.m. there will be a "de-stress and refresh" event at the campus Starbucks. Refresh at Starbucks will live music from students, a cup decorating contest and free reusable cups for the first 50 students who attend.
Vulnerability and Happiness Workshop
Feeling down lately? UNF Healthy Osprey realizes that along with physical health, mental health is equally as important. Come out to their Vulnerability and Happiness Workshop happening from 5 p.m. to 6 p.m. in the student union.
Twisted Tuesday: Taco Night
If workshops aren't your thing, there is something else that can always make a college student happy: tacos! UNF wellness dietitians and campus life are hosting a Twisted Tuesday Taco Night. Not only do you get to make your own healthy and free tacos (emphasis on the word free), but you also get to chat with a registered dietician who might be able to give you advice on how to eat healthy tacos at home. It's okay to eat tacos everyday if they are healthy, right? I vote yes.
Wednesday, Sept. 26
Market Days: Healthy Osprey Day
Make sure to stop at market day between your classes, as there will be games, giveaways and interactive activities with various campus health and wellness departments. It's not just your average market day, it's Healthy Osprey Day!
Get Financially Fit
Having trouble kicking your french fry habit? Well, your daily dose of gloriously salty waffle fries from our favorite red and white bags may take a toll on your wallet more than your health. Community First Credit Union is here to help students learn how to manage these tempting impulsive buys. Get Financially Fit at the bank's crash course on budgeting from 4 p.m. to 5 p.m.
Thursday, Sept. 27
Healthy Smoothie Workshop
More free food, yay! The Wellness Center will be handing out samples of nutrient-dense smoothies from 4 p.m. to 5 p.m. while also giving tips on how to make nutritious smoothies in your own home.
Friday, Sept. 28
Easy Cooking with the Wellness Dietitians and SNDA
The Student Nutrition and Dietetics Association will be hosting an "easy cooking" demonstration from 1 p.m. to 2 p.m., teaching students how to create healthy, flavorful and simple dishes. Participants will also get to sample the dishes being prepared. You'll want to put this one in your planner, as only the first 20 students to arrive will be allowed to participate
Friday Lounge: Field Day
To close out the week, students are encouraged to get active and embrace their inner child with the Friday Lounge: Field Day. UNF greek life will be hosting this fun afternoon of kickball from 2 p.m. to 4 p.m.
Have a healthy week, Ospreys!
—
For more information or news tips, or if you see an error in this story or have any compliments or concerns, contact [email protected]