OPINION: Rick Scott's long list of corruption
On Nov. 6, Florida had its mid-term elections. On that night, Republicans appeared to enjoy a sweep, with victories in the races for U.S Senate and Florida Governor. However, there is now a controversy regarding a recount of that election, plus the elections for Governor and Agriculture Commissioner, with the Florida Democrats claiming votes weren't counted, and Republicans calling them conspiracies. Rick Scott personally claimed that Democrats want to "steal" the election, and has fought back, so far winning two election-related lawsuits.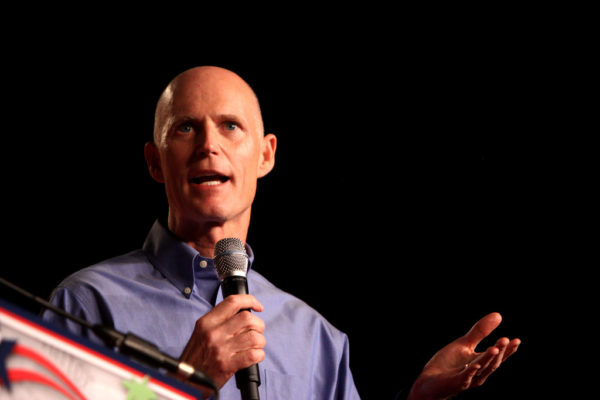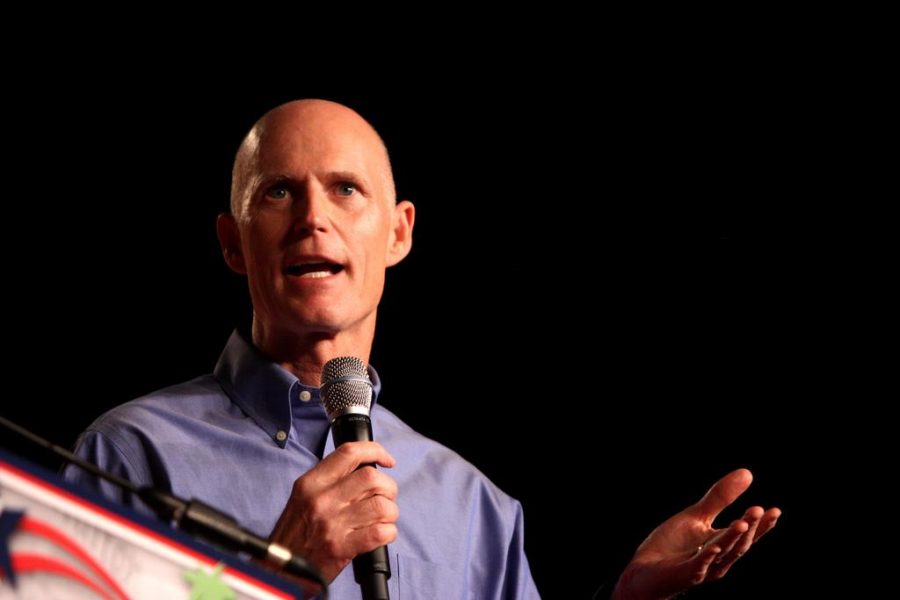 If Scott continues to prevail that means he'll be our state's next U.S. Senator, meaning he'll be representing us in one of the houses of Congress for the next six years at least. Thus, it's important that we look back on the man often called by anti-corruption group Citizens for Responsibility and Ethics in Washington (CREW)"one of the worst Governors in America."
Rick Scott was born in Illinois, but grew up in Missouri. Thanks to the G.I. Bill, he attended college and law school before becoming a businessman, ultimately opening up Colombia/HCA, the "single largest for-profit health care company in the country," in 1994. Scott was even rewarded by TIME Magazine for innovations in healthcare. But from the late 1990s, government authorities began cracking down on his company for Medicare fraud.
It got so bad that in 1997, Scott resigned as CEO, and in 2002, Columbia/HCA had pled guilty to up to 14 felonies, and paid $600 million worth of fines in what was the biggest Medicare fraud case in U.S. history. In a memorable video, Scott is seen pleading the 5th, refusing to make a statement to avoid incriminating himself, 75 times.
Scott's business career went on however, but so did the scandals. His urgent care center, Solantic, was later sued for discriminating against its employees, namely ones who were elderly, overweight, or had accents. Allegedly, the company preferred "mainstream" candidates. They settled the lawsuit in 2007.
As part of its operations, Solantic did drug-testings, something that Scott made national headlines for during his first year as Governor in 2011 when he began a new policy of drug-testing welfare recipients. Scott said he did so because welfare recipients use drugs more than those not on welfare. This turned out not to be true: as the ACLU of Florida pointed out "only 108 of the 4,086 people who took a drug test failed" or in percentages, just 2.6% (it should be noted at least 40 people cancelled their requests, but even then, that's such a small number). In all, these drug tests cost Florida $45,780 per year.
So why would Rick Scott, the brilliant venture capitalist he is, sign such a wasteful law? Well, as stated before, Solantic does drug-testing, and after becoming Governor, Scott transferred $62 million in stake in the company over to his wife, Ann Scott.
This would be the first of MANY conflicts-of-interests throughout Scott's Governorship, many of which stem from, as the New York Times called it, "Blind Trust In Name Only."
Other scandals include the current All Aboard Florida project. You see, in 2011, again in his first year as Governor, Scott killed a high-speed rail project from Miami to Orlando, claiming it would cost too much cash in the long-run. This is despite the fact that the federal government was promising to pay up to $1.2 billion for the project, and studies show it would've created nearly 60,000 jobs, 32,600 directly and 26,300 indirectly.
He did this as Florida's unemployment rate was one of the highest in the country. Even his fellow Republicans in the Florida Senate protested, and tried suing to get the funds. Scott won, and the project died.
Now, years later, Scott is supporting state funding for All Aboard Florida, up to $200 million for them to extend to Orlando through bond exemptions, a form of a public subsidy.
It just so happens that in 2012, Scott hired as his Chief of Staff Adam Hollingsworth, an ex-employee of one of Florida East Coast Industries' subsidiaries (Florida East Coast being the company constructing the All Aboard Florida project), who was revealed to be discussing the rail with yet another Scott aide. (Hollingsworth later revealed in 2013 that he lied about obtaining a degree from the University Of Alabama in 1990, when he really got it in 2009).
It also just so happens that Florida East Coast Industries is in and of itself a subsidiary of a larger company, Fortress Investment Group, which Rick and Ann Scott just so happen to have at least $3 million invested in.
AND it also just so happens that All Aboard Florida gave $188,000 to Scott's first campaign in 2010, and another $25,000 for his inauguration according to the Miami Herald.
All Aboard Florida isn't the only Scott campaign donor to get good deals from his Governorship.
Before Adam Hollingsworth, Scott's Chief of Staff was Steve MacNamara. He resigned in 2012 after the Miami Herald reported that he steered a $360,000 no-bid contract to a friend of his. He was also being investigated by the New York Times for apparently getting a bit-too involved in negotiations between the state and Infinity Software Development regarding a $20 million state contract.
As Governor, Scott prevented carving out dental care services from Medicaid in 2013, a move that benefited Managed Care of North America (MCNA). In 2014, MCNA gave $75,000 to Scott, and $355,000 to Florida's Republican Party. Then, in 2016, the MCNA came out in favor of carving out dental services from Medicaid. That same year, Scott signed a law doing just that.
In 2014, Scott reversed Florida's Department of Environmental Protection's decision to block Flagstone Island Gardens from developing on Marina Island.
Five days later, lobbyist Bill Rubin, who knew Scott from his days at Colombia/HCA and who had joined Flagstone, began making major donations to Scott and his political action committees (PAC)s. The first amount was $5,000. Next month, it was $50,000.
Even after declaring a state-of-emergency over toxic algae blooms, Scott, as the Miami Herald put it, "refused to blame Big Sugar," one of Florida's most notorious industries. It's not surprising considering Scott's long history of support from the industry.
In 2014, United States Sugar Corporation donated $960,000 to Scott's Let's Get to Work Committee. Scott even took a well-publicized hunting trip to Texas's King Ranch, owned by U.S. Sugar Corporation, in 2014. When confronted, Scott simply bragged to reporters that he had "a great shot" (killing a buck). By 2016, according to tcpalm.com, Scott has received $980,512 in campaign contributions from Big Sugar.
There's also all the crony contributions from Scott's appointees as well. Explained in Ocala.com, numerous business people Scott appointed to high-level government agencies, including Enterprise Florida, Scott's public-private economy development agency, made big contributions to his 2018 Senate campaign. Not only this is suspicious, but each individual's possible impact on state policy is disturbing too.
For example, Gary Chartrand is a Jacksonville marketing executive, a well-known and successful one too. He is not an education official.
Yet, Scott appointed him to the State Board of Education.
While there, Chartrand himself stated: "I wouldn't call myself really well-versed … I have a lot to learn, but I try to apply certain business principles." But again, he was on the State Board of Education, a role he used to continue his support for charter schools and school vouchers, which Rick Scott has for years supported, including giving charters $140 million in 2017 alone.
Chartrand has repaid Scott in kind; he donated $75,800 to Rick Scott's 2018 Senate campaign.
Perhaps most disturbing is the case of Tenant Healthcare.
In 2016, Scott eliminated a 38-year-old rule regulating the open-heart surgery of infants. The elimination came three months after a CNN report showed St. Mary's Medical Center in West Palm Beach had failed to meet regulatory standards regarding youth open-heart surgeries, causing it to have a 12.5 percent mortality rate compared to the national 3.3 percent. St. Mary's is owned by the for-profit hospital chain Tenant Healthcare, which donated $200,000 to Scott and the Florida GOP.
Scott claimed he gutted the rule because they were Unconstitutional, having never been passed by the Legislature. But if that were the case, why not convene a special legislative session to get lawmakers to send a bill to his desk so he could make it constitutional? It's also hilarious coming from Scott, a Governor who's policies have been found 4 TIMES to be Unconstituional according to courts.
The list can go on, but to wrap it up, in the 1970s, Florida had a Governor named Ruebin Askew, who was known for his strong public integrity, and helped pass the Sunshine Amendment, a slew of anti-corruption measures engrained in our State Constitution. These included rules on lobbying, increased financial disclosures, and improving the public's access to government information in general.
From 2011-2019, Florida had a Governor named Rick Scott, who hired lobbyists to be apart of his Administration, and was the first Florida Governor to ever be successfully sued for hiding public records.
And now, unless Bill Nelson achieves a surprise win via the recount, he's our new United States Senator.
—
For more information or news tips, or if you see an error in this story or have any compliments or concerns, contact [email protected].