BREAKING: Noah Horchler released from UNF Basketball after violating team rules
Drew McDonald, Sports Editor and Bruce Hope, Sports Reporter
February 25, 2019
UPDATE: 3:56 p.m.
UNF Athletic Director Lee Moon Sr. had no comment on the specifics of team rules that Horchler violated.
"It can be a gambit of things that you violate our rules within the University Athletic Department policies. It could be team rules which can be more stringent than just our rules. Each individual team has some of their own rules and the coaches make those determinations as to how they look at the violation of those rules of different severity," Moon said.
Moon further discussed the importance of the privacy of the student athlete.
"We have rules and regulations on what we can comment on…the privacy of the student athlete and they're our first concern no matter what they do and how they screw up," Moon said. "There's a violation of team rules and anything speculative is not fair to anybody."
After the Ospreys' win against Liberty, Coach Driscoll said in a press conference, " Noah Horchler will not be playing at the University of North Florida after violating team rules."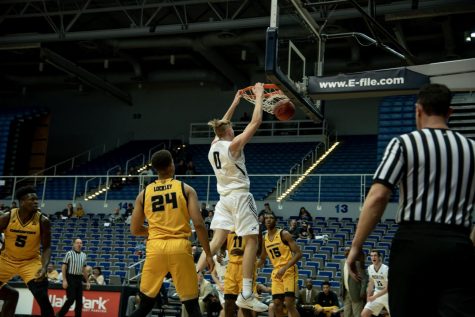 Spinnaker will continue to update this story with new information.
__
For more information or news tips, or if you see an error in this story or have any compliments or concerns, contact [email protected]