Beth Ingram, third candidate for provost, talks on higher education and student affairs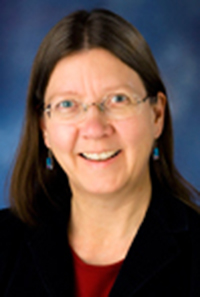 Flying in from the balmy 7 degree high of Fargo, North Dakota, the third candidate for UNF Provost, Beth Ingram, held her open forum on Wednesday afternoon.
"I've been in higher ed. administration for about 18 years," Ingram opened, "I started out as a Department Chair, and kind of moved up through the traditional ranks, and was Provost at NDSU for four years–but I'd spent five years in the Provost Office before that."
Ingram earned her doctorate in Economics from University of Minnesota after earning her Bachelor of Sciences degree in Economics and Mathematics at University of Iowa. From 2014 until August 2018, she served as Provost and Vice President of Academic Affairs at North Dakota State University.
In her opening remarks, she summarized several current key issues in higher education. "Higher education is under scrutiny right now," Ingram said, "from concerns about our tuition costs, to debt levels for students, to whether they're succeeding, whether they're getting through their degrees and graduating, what happens to them afterwards, to concerns about state funding."
After sharing a brief summary of her career and a few statements outlining her central values regarding higher education, Ingram invited those in attendance to begin asking questions.
Andrew King, director of the UNF Counseling Center, asked Ingram about UNF's President David Szymanski's recent move to integrate the divisions of Academic and Student Affairs, given her experience with a similar situation at NDSU when she served as Provost.
"The biggest problem with a merger like that, is that the two cultures are very different. Academic Affairs is very flat, it's not very hierarchical, faculty determine their own time, get to decide what they want to do, when they come into the office. Student Affairs tends to be a lot more hierarchical. There's a clear reporting relationship, people have specific duties that they have to do; and so, because the cultures are different, sometimes people don't understand each other.
"The Student Affairs people resent faculty rolling in at 10 o'clock for a meeting; the faculty don't understand what it is Student Affairs actually do; they think it's fluffy leadership stuff. So the more that you understand the two cultures and you can talk to people and you can explain the value of what people do, the better it is."
Ingram was the third of the four Provost finalists to visit the UNF campus, with the final candidate hosting an open forum Thursday, Feb. 28, starting at 3:05 p.m. The Provost Search Committee and President Szymanski will make final deliberations on Friday, March 1.
__
For more information or news tips, or if you see an error in this story or have any compliments or concerns, contact [email protected].