Ospreys defeat Highlanders to conclude regular season
In what may have been the final home game for Seniors Arianna Emanuel-Wright and Ty Purifoy, the UNF Women's Basketball team  looked to end the 2018-2019 regular season in style against the visiting NJIT Highlanders. The Ospreys did just that in a 54-46 win behind a dominant effort by Redshirt-Sophomore Jazz Bond, who finished with 15 points and eight rebounds.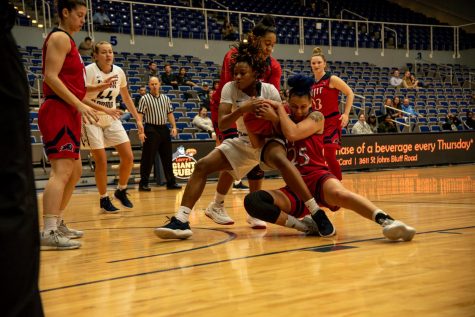 The first quarter proved a deadlock; Emanuel-Wright and Junior Adrienne Jackson both scored four points apiece to lead UNF.  The first quarter ended with UNF trailing by one, 13-12.  Both teams were sloppy with the ball, UNF committing four turnovers and NJIT five.
With five minutes left in the second quarter, NJIT held a five-point lead, 22-16.  Redshirt-Senior Tatianna Torres scored seven points for the Highlanders early, already nearly matching her eight points-per-game season average.  Her backcourt mate, Junior Danielle Tunstall matched her effort, and both finished the first half with seven points.
The score at halftime was 28-25, NJIT.  Both teams shot in the low 40 percent range in the half.  UNF shot 42.9 percent and NJIT 43.5. The difference though, was the three ball; UNF couldn't buy a long distance make, going 0-7 from beyond the arc while NJIT went 4-9.
The second half was back and forth.  Both teams boasted balanced scoring with all but two players each registering points in the game.
The score through three quarters was locked in a 39-39 tie.  The Ospreys defense held NJIT to 30 percent shooting in the third quarter.
With the Ospreys' poor shooting from the field and from three, their defense kept the game tight.
"I think good teams find a way to win no matter what.  Whether it's the way you want to play, or the way you have to play," UNF Women's Basketball Head Coach Darrick Gibbs said.
Bond's big game carried her team on the tough shooting night by getting key baskets down the stretch.  She also made numerous defensive plays with three blocks on the night to stop Highlander attacks on the basket.
"I got amped up on the offensive end because of how we're playing defense," Bond said of her timely baskets.
The Ospreys got key stops in the final quarter, forcing multiple turnovers (NJIT had 18 on the night) en route to an eight-point, 54-46 win.
The Ospreys finish the season 14-13 (9-7 ASUN) and the Highlanders finished 6-23 (3-13 ASUN).
After ending the season on a three game winning streak to go one game over .500 for the season, the Ospreys wait to find out who and where they will play in the Quarterfinal round of the ASUN Women's Basketball Conference Tournament.
The ASUN conference tournament begins Friday, March 8.
—
For more information or news tips, or if you see an error in this story or have any compliments or concerns, contact [email protected]