How one UNF teacher is making an impact
According to Matthew Ohlson, leadership development is undoubtedly one of the most important instruments for fostering growth.
This principle is what the Department of Leadership School Counseling and Sport Management faculty member strives to provide for his students, as well as students throughout the community. Ohlson, who has been teaching at UNF for almost four years, spends much of his time as Interim Director of the Taylor Leadership Institute, where he and his team work to train students on how they can be better leaders. The Institute offers various undergraduate courses, where students can learn valuable skills to prepare them for their future, such as time-management, goal-setting and accountability.
"We're teaching students how to be leaders on campus and how to reach leaders in the community. That's something that I'm just absolutely passionate about," Ohlson said.
As well as being a passionate teacher, interim director and advisor of UNF athletics, Ohlson also oversees a program, which he developed, called C.A.M.P. Osprey. C.A.M.P. Osprey, which stands for "collegiate achievement mentoring program," allows students the opportunity to not only learn necessary leadership skills, but a chance to take those skills and go out into the community and mentor someone else. The program even offers virtual mentoring, where students can mentor peers from outside of their own state. The program aims to reach students of all ages-as early as elementary all the way up to undergraduate college students, with the hopes of being a helping hand on their academic journeys.  
"It really makes students feel like they're supported and valued. It's been a really powerful way to say 'hey, let's make an impact on the community. Let's make sure the experience for every student here at UNF is valuable and they feel supported'"Ohlson said.
Ohlson's efforts have made such an impact, that he was recently named the 2019 "College Ready Florida Innovator," an award by the Florida College Access Network that honors individuals trying unique approaches to help students get into and pay for college.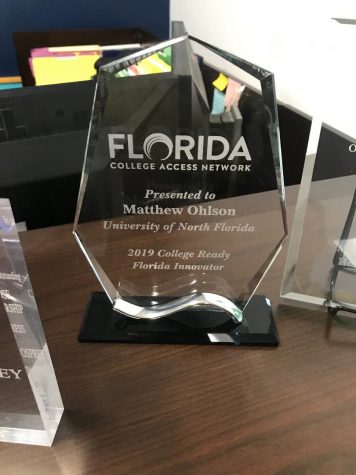 Ohlson and his team are currently working to expand their "Leadership Practicum" that will now allow students the opportunity to be mentored by someone who is working in their desired career. This will enable students the opportunity to get hands on experience from a professional in their field before they graduate.
Ohlson and his team are also hoping to release a textbook in the near future, that will provide students and faculty with many of the resources that are available within their program.
__
For more information or news tips, or if you see an error in this story or have any compliments or concerns, contact [email protected].