UNF Surf team prepares for Nationals
Just as all UNF sports have come to a close, another one is contending for a national title as the UNF Surf Team heads to California in hopes of bringing home the gold.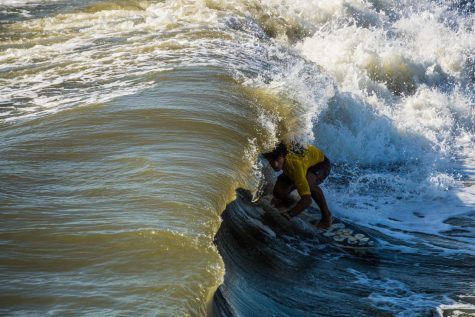 Raymond Bunch, Surf Club Advisor, spoke about the team's progression this season.
"Last year was kind of a rebuilding year. This year, they've just carried on from there, to be honest. Basically, they've won everything they've gone to on the east coast," Bunch said.
With a team that has been on a massive tear, the success has come from top to bottom.
"What we have now is a much more rounded team. The overall team itself is stronger," Bunch said.
Some surfers to look out for in the National Tournament for UNF are Hunter Roland and Avery Aydolette, who are the team's top performers, according to Bunch.
The difference in waves in Florida and California seems like it'd be a major challenge, but Bunch mentioned how the surfers prepare for it.
"One of our former surfers once said "the reason Florida has such good surf is if you can ride the short waves in Florida and can actually make something out of them, once you get a six footer, it's a piece of toffee," Bunch said.
If the team wins the tournament which goes from June 15-June 18, Bunch already has plans for where the trophy will go.
"I've got three second place finishers and a fourth place finisher in our trophy cabinet in the Wellness Center and it'd be nice to put a first place one right in the middle, fingers crossed," Bunch said.
__
For more information or news tips, or if you see an error in this story or have any compliments or concerns, contact [email protected].