Griffey delivers stellar performance on Senior Night
Featured image by: Lili Weinstein
Video by: Brett Nweeia
After losing the second set, Taryn Griffey rallied the team to win two straight sets en route to a 3-1 match win over the JU Dolphins. 
[embedyt] https://www.youtube.com/watch?v=NvLjILb1IAA[/embedyt]
The Ospreys maintained an early lead in the first set with the Dolphins not far behind. There was no definite momentum for either side. A kill from Griffey distanced the Ospreys from the Dolphins with an 18-13 lead. The Ospreys didn't relinquish their lead as they won the first set, 25-16. UNF was firing on all cylinders on the attack, outscoring the Dolphins in kills, 18-8. 
The Dolphins hit the ground running after the first set loss, leading 6-2 early in the second set. JU went on to win the second set, 25-20. Mallory Mattingly led the Dolphins with seven kills through two sets. 
"We basically handed them the set in unforced errors," UNF Volleyball Head Coach Kristen Wright said. "I think that bothered Taryn and she led the huddle. She did a great job in the locker room and leading and I thought we responded well by keeping our unforced errors down and scoring."
After the break, the Ospreys got back on track with an early 7-2 lead. The Dolphins were stymied on the attack, losing the third set, 25-8. Solimar Cestero finished the third set with 19 kills.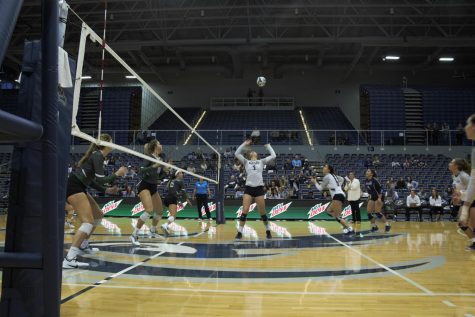 The fourth set was much more competitive than the third as both teams traded points. The Ospreys regained a 13-12 lead on a service ace from Emma Dixon. That lead was short-lived as the momentum was even from both sides. A kill from Griffey won the match, 25-21. 
"It was such a crazy feeling and I knew Ju (Julianna Askew) was going to keep giving me the ball and I was like, 'I'm going to get it, I'm going to get it' and I was not going to let them stop me," Griffey said. 
Cestero led the team with 24 kills with Griffey not far behind with 19 of her own. 
The win improves UNF to 14-15 (6-7 ASUN) and JU drops to 9-19 (5-9 ASUN). 
The Ospreys have a quick turnover as they host Liberty on Sunday, November 10 at 1 p.m.
__
For more information or news tips, or if you see an error in this story or have any compliments or concerns, contact [email protected].