Men's basketball dominates EKU, secures a spot in the ASUN tournament
The University of North Florida men's basketball squad faced off against the Eastern Kentucky University Colonels on Wednesday, with the Ospreys taking the match 77-64.
The Ospreys entered Wednesday either needing a win or a JU loss across town to clinch a spot in the ASUN tournament. With Bellarmine taking down the Dolphins, the pressure was off, but it wasn't apparent as UNF dominated.
Things were tied up pretty evenly in the first half, as both teams went back and forth. However, the Ospreys used their superb ball movement and perimeter defense to give themselves an eight-point lead heading into the break.
The second half is where things started looking ugly for EKU, however. UNF was able to hold the Colonels to just a 34.29% shooting percentage in the period. Double that with a 22-point lead by the 5:41 mark and it's easy to see why the game ended with such a lopsided score.
As stated earlier, the ball movement displayed by the Ospreys in this outing was on point, with UNF managing an astounding 18 total assists in the contest.
Nine of these came from junior guard Jarius Hicklen, who had one of his best games of the season on Wednesday with 16 points and three steals, adding to a great exhibition of passing.
Along with Hicklen's three-steal performance, the Ospreys as a whole seemed like highway robbers Wednesday night, managing a total eight steals in the contest.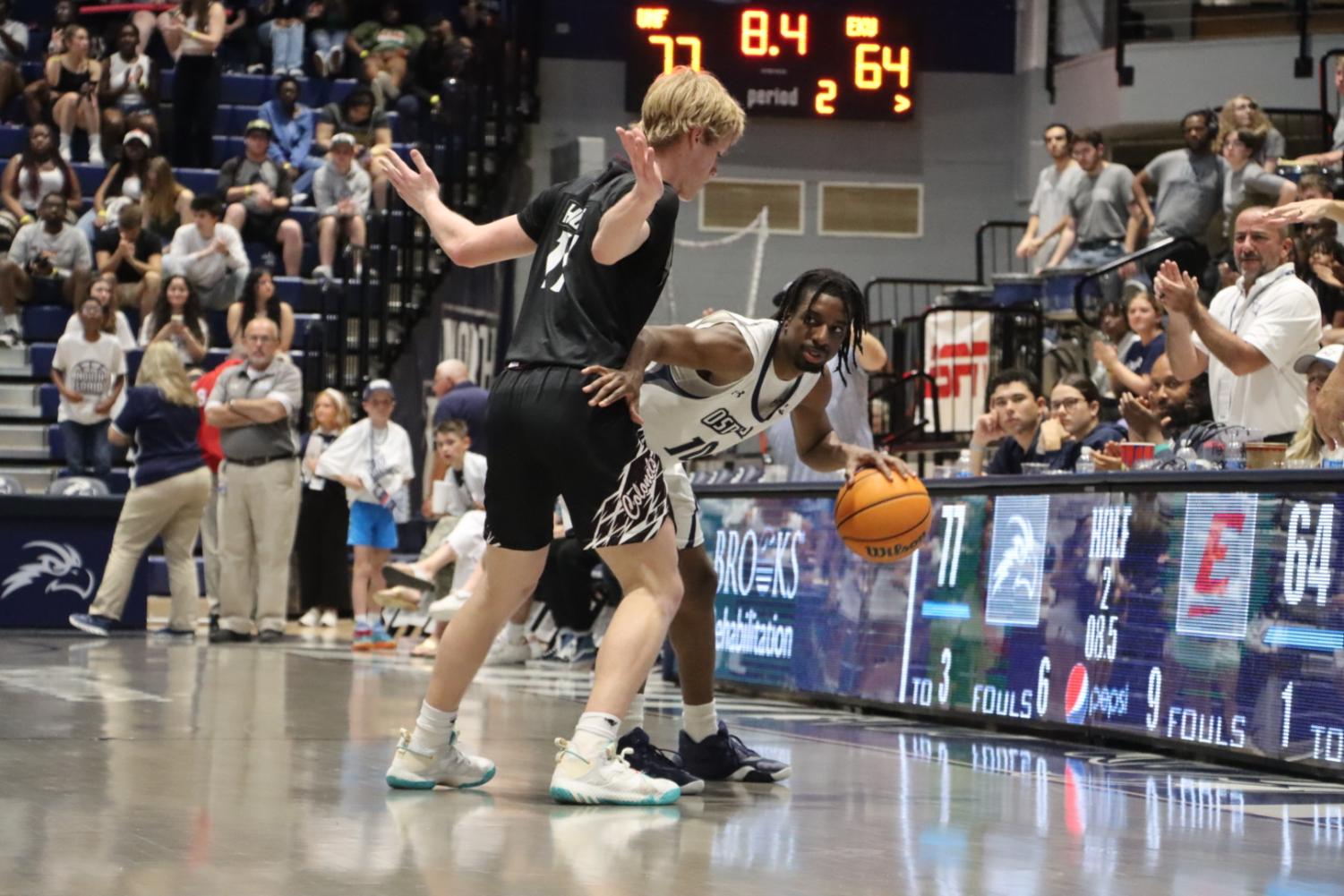 When asked about how the team practices ball movement, and how those fast-break plays such as steals lead to valuable assists, Hicklen and UNF Head Coach Matthew Driscoll credited the time and effort spent honing their craft as to what allowed for the spectacular performance.
"On the board we have a list of things we want to do in the game," Hicklen said. "That's an after-stop score, so basically we keep that and we wanna have that number high."
"We want to be around 1.3," stated Driscoll. "That's a little bit higher than the national average, so we don't wanna be average."
North Florida is looking above average indeed, with a 10-2 record at home and an 8-9 record in the conference, this squad is looking to be a scary team to face as the eighth-ranked team now locked into the ASUN tournament.
The Ospreys will be closing out their regular season at home this week, facing off against the seventh-ranked Bellarmine University Knights on Friday at 7 p.m.
North Florida will also be honoring their seniors on Friday, with honors to be held before the contest.
___
For more information or news tips, or if you see an error in this story or have any compliments or concerns, contact [email protected].