Checking in on self-checkout
It's been three months since the University of North Florida introduced its new self-service kiosks to the on-campus dining experience, done in an effort to minimize wait times and stress on employees. Since then, the reactions have been mixed.
It seems that people are mostly positive about the convenience they provide, but there have been some other concerns following the implementation of this fresh new twist on ordering meals.
When asked for their opinions on the self-service system, students mentioned everything from "how much easier it is to order exactly what you want" all the way to "having less anxiety while ordering your food." 
Garrett Williams, a fourth-year UNF student studying biology, said "they aren't the best thing I've ever seen, but they're convenient, and I like the options they give."
With these "upgrades" to the UNF dining system being put to use after roughly a year of preparation, the speed at which you can order your food has increased substantially. Though this does not come without its drawbacks, as the line has to move somewhere. 
"Even though there is never a line at the front door anymore, the wait just feels so much longer now," says Emily Lass, a first-year UNF student studying English. 
This seems to be an issue that the staff has noticed as well.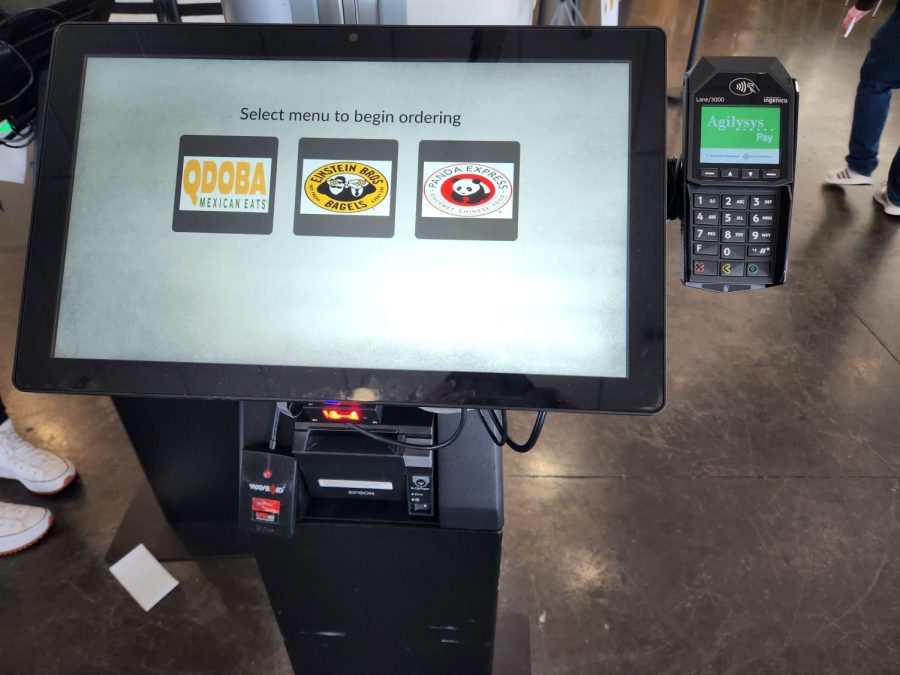 "There are positives and negatives to the new system," said Gianna Patrick, an employee of the UNF campus who started working at Chick-fil-A in early August 2022. 
"[The self-checkout system] does affect wait times, with many customers having to wait longer for their food," she said, "but it also takes a load off of the front register." 
Patrick also mentioned that the kiosks offer a sense of comfort to people with social anxiety and aid in communication with customers who are hearing impaired.
Students mentioned other concerns ranging from a disconnect from customer service to issues regarding cash payment. Anyone looking to buy something with cash on campus can still walk up to the register like before self-checkout. 
Regular registers are still in use, but instead of the primary means of checkout, they are now being used more as supplementary services.
Yet another feature that has been implemented in order to give the student body an outlet to provide feedback is "review kiosks" where students can rate their experience at various dining establishments on campus.
The self-service kiosks have definitely been a change for the student body and the food staff at UNF, but just like everything else, there will be growing pains until the new becomes the norm. Despite what some students see as current flaws in the system, it seems that the common consensus is that most enjoy the convenience this new technology provides them.
___
For more information or news tips, or if you see an error in this story or have any compliments or concerns, contact [email protected].