Jacksonville collaboration, housing development among UNF's newly sworn-in SG administration's initiatives
Claiming victory in this semester's election, University of North Florida Student Body President John Grosso and Student Body Vice President Emily Sullivan were sworn into their roles today, officially beginning their term. 
Grosso served as student body vice president in mid-2021 alongside former-student body president Selma Besirevic, and Sullivan was most recently the Senate president pro tempore, among other roles. 
Leveraging that past experience, the pair of Student Government veterans have big plans. 
"We have worked on both sides," Grosso explained during a recent interview with Spinnaker. "We kinda know the tips and tricks and the inside scoop to hit the ground running."
Connecting with more than students
Because Spinnaker interviewed Grosso and Sullivan before they were officially sworn in, they could not share their full initiative list. In the meantime, however, they did share some of their target areas on that initiative list.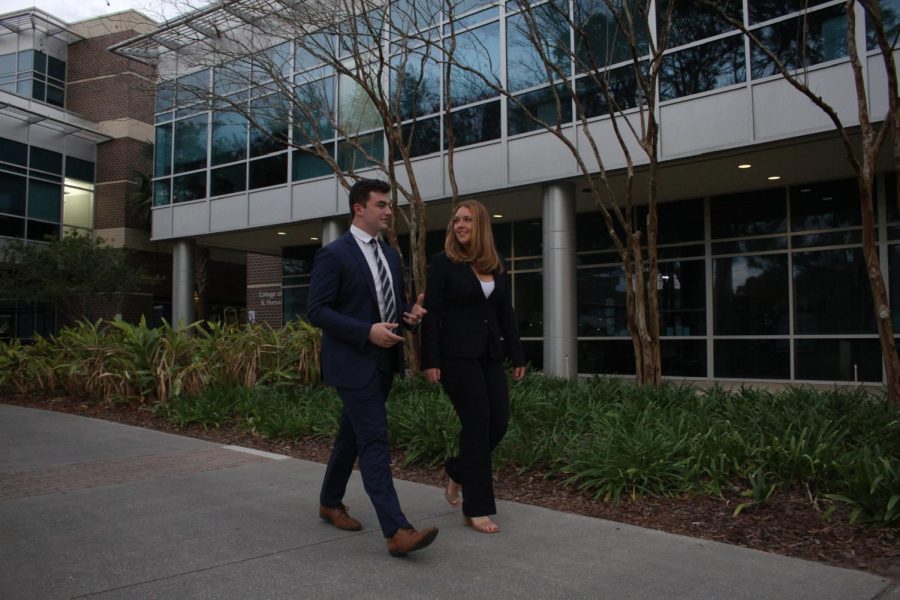 As an overarching goal, the now-student body president said they want to work on improving SG's relationship with other UNF departments and, more generally, work on rebranding SG's structure.
"We are interested in athletics, housing development and the local city of Jacksonville," said Grosso.
Potential roadblocks and challenges
"I think one of my biggest challenges will just be the change of position," Sullivan said about the future. "It's just a different energy, and it will just be new."
The now-student body vice-president also discussed her excitement about working more with students such as working with the agencies such as the Osprey Involvement Center and Lend-A-Wing.
For problems they've identified already, Sullivan explained that want to tackle UNF's transfer rates. According to the now-student body vice president, it's a "big issue" because some students come to the university for one or two years before transferring elsewhere. 
Figuring out what's driving students to leave and what SG can do to keep them at UNF is the first problem they're going to tackle. 
"It's not something we can figure out in a week or two," she said. "But working with the departments and speaking with the students to figure out what can keep them here so they have a full four-year degree from UNF, not two years and then they transfer to a bigger university."
Engaging students with Student Government
Reflecting on the recent election, Grosso called their win "bittersweet." Though UNF saw its first contested Senate election in two years, that didn't remain true for the presidential and vice presidential elections. 
Twenty-three candidates competed for 20 seats in Senate this semester, but no one ran against Grosso and Sullivan on the ballot. This certainly isn't the first uncontested election, but it does raise red flags for the newly sworn-in student body president. 
"I'm happy to have the position, but I think it does call to attention that students are not necessarily aware of how important it is to elect people that want to represent their voice," he said. "I think you should want to have contested elections in the future and I'm hoping that what we do in this year can spark that."
Aside from his usual duties as student body president, Grosso will also sit on UNF's Board of Trustees. He said he's thrilled to have the role and will begin training for the position soon. With obvious excitement, Grosso said he looks forward to telling the trustees what students want him to say.
___
For more information or news tips, or if you see an error in this story or have any compliments or concerns, contact [email protected].