Strategic plan and post-tenure review process on agenda for UNF Board of Trustees meeting
Several big topics will be debated and voted on during the University of North Florida's Board of Trustees meeting in the Student Union Ballroom on Thursday. The five-hour-long meeting will cover everything from post-tenure review for faculty and the university's new strategic plan to Student Government leadership goals and more.
The board will hear the university's new proposed policy for post-tenure review which was heard by a UNF committee two weeks ago. One committee member — Faculty Association President Mike Binder — voted against implementing the policy.
"We don't really have a whole lot of choice here," said Binder, recognizing that UNF's policy must be very similar to the BOG's post-tenure review regulation.
Less than 48 hours after the committee voted on the policy, the university's faculty union (UFF-UNF) issued a cease and desist order, alleging that implementing the policy without bargaining with the union would violate faculty contracts.
Spinnaker requested a comment from UNF regarding the cease and desist order, and they gave the following response: "The University is engaged in impact bargaining with the UFF's UNF Chapter regarding post-tenure review. Out of respect for that process, we decline to comment."
To learn more about tenure and how this new review could potentially impact the process, visit here.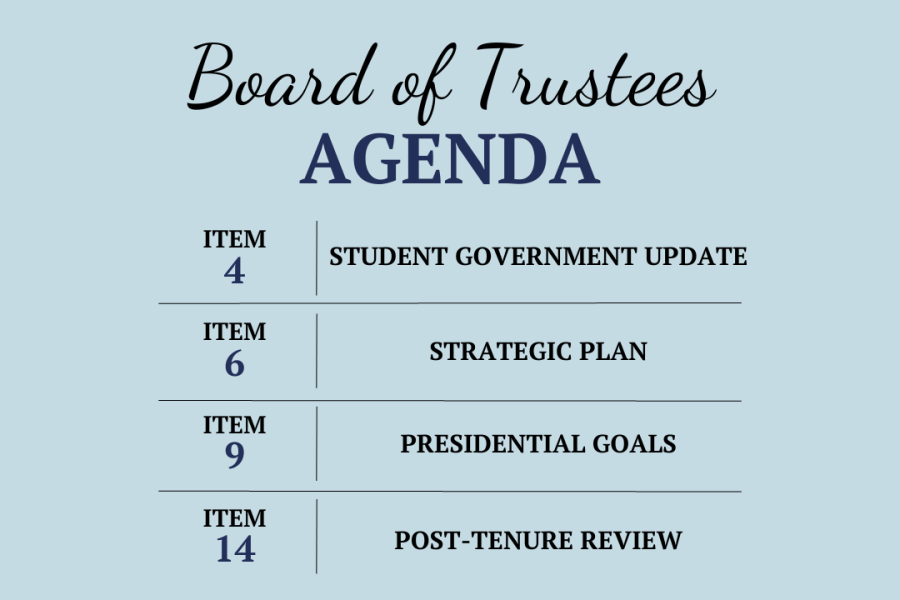 Before getting to the post-tenure review, the university will present its new strategic plan for 2023-2028. Every five years, the university creates a new strategic plan meant to achieve various goals and more.
The current strategic plan, which its website says lasts from 2020-2025, is centered around seven core guiding principles: student-centered, excellence, innovation, partnerships, inclusion, goodness and morality and uniquely UNF, among others.
Spinnaker has requested a copy of the 2023-2028 strategic plan plus any drafts of it and will report on our findings once received from UNF.
After the strategic plan, President Moez Limayem will deliver his new goals for the upcoming fiscal year and recap his past ones.
There will be updates from various committees and a few amendments will be proposed for votes. The university's budget will be presented and is expected to be approved by the BOT. Also, an unnamed private donor will be reviewed to potentially name UNF's Healing Garden, the agenda said.
The meeting is scheduled to begin at 8:30 a.m. and end at 1:30 p.m. on Thursday. Spinnaker will be in attendance and will bring live updates on Twitter here. To view the full agenda, visit here.
___
For more information or news tips, or if you see an error in this story or have any compliments or concerns, contact [email protected].