Starting their four-game road trip on Thursday with a 3-0 loss to Eastern Kentucky Colonels, the University of North Florida women's soccer team failed to put away the Colonels in the second half of the game.
The Ospreys were the first to get the action started after a corner kick fired by freshman midfielder Paige McSwigan ended up hitting the crossbar on a headshot by senior defender Zara Siassi. 
Eastern Kentucky struck first in the fourth minute after a red card was issued to junior goalkeeper Rachel Fishkin for nailing a striker in the goalkeeping box. Nevertheless, North Florida's defense remained aggressive as the Osprey held the Colonels at just two shots in the opening frame.
Offensive adjustments made by the Colonels had a heavy impact on the second half, as EKU out-shot the Ospreys by seven, five of which being shots on the goal
Fifteen minutes into the second, Jami Anderson landed a hooked shot from the right side of the box, adding another goal for the Colonels. Anderson achieved her second goal of the night just 20 minutes later to extend the Colonel lead to 3-0 in the 80th minute.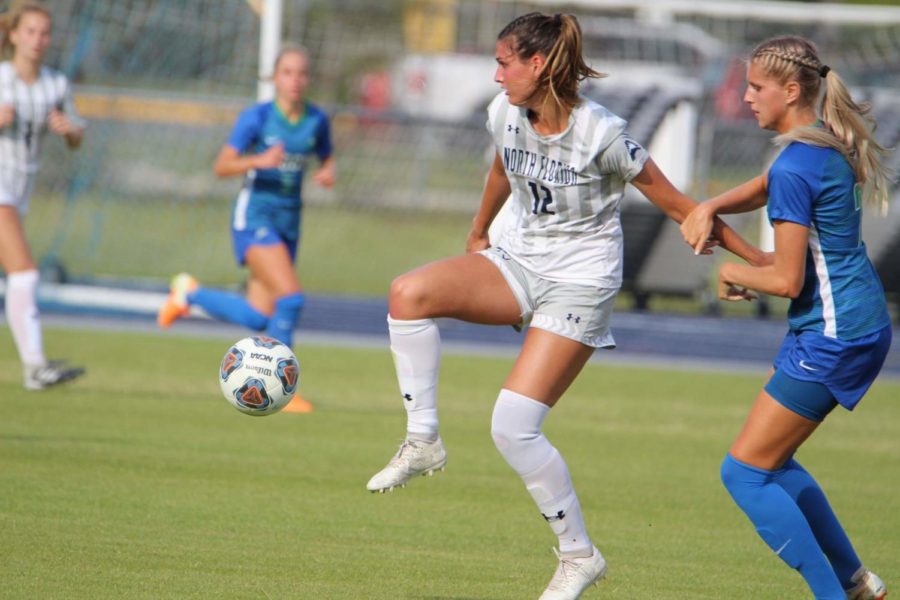 Dejavu struck for the Ospreys who, unable to capitalize on their eight shots, fell to the Colonels a week after winning over Austin Peay with the same 3-0 final score. The game just wasn't in their favor this time around. 
"Obviously a tough day," Faulconer said. "The penalty and going down early hurt but we kind of created that mess ourselves. Credit to EKU, they never let up after that. Well deserved, they outplayed us regardless if we had 10 or 11 players, we weren't ready to play today which is kind of surprising."
After losing a player due to an early red card, coach Faulconer dug into how it affected the team. The Ospreys handled it well in the first half, he said, but not in the second.
Faulconer ended the interview emphasizing the importance of their upcoming matchup on Sunday, mentioning how they need to get points to move up in the standings. 
At about the halfway point of their season, North Florida falls to a record of 4-6-2 and drops to under .500 in ASUN conference play. The Colonels improved to a 4-6-2 overall record, with a 3-1-1 result in league play. 
The Osprey's will continue their four-game road trip on Sunday, facing off against the Bellarmine Knights in Louisville at 1 p.m. 
More information on North Florida soccer and other Osprey sports can be found on the UNF Athletic website here. 
___
For more information or news tips, or if you see an error in this story or have any compliments or concerns, contact [email protected]