2-day event brings 900 students to Arena, costs $40,000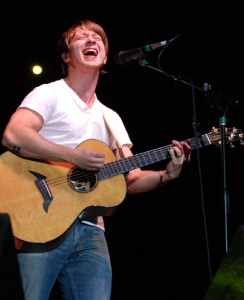 Nearly 1,000 students attended Revamp, a two-day concert event sponsored by Campus Ministries Feb. 26-27 in the Arena.
Five bands, The Afters, Seventh Day Slumber, Story Side B, 10th Ave. North and KJ52 performed. Former Jacksonville Jaguar Tony Boselli also spoke. The event was free to UNF students and the surrounding community, as SG funded Revamp, which cost $40,000.
"We were very happy at the level of student participation at Revamp," Student Body President John Barnes said. "It was also a wonderful way to reach out to the Jacksonville community."
Below: Students interact with 10th Ave. North, who performed Feb. 27 in the Arena. Right: Mike Donehey, lead singer for 10th Ave. North, performs at the Arena.