UNF's women's basketball looks to eliminate turnovers, turnover a new leaf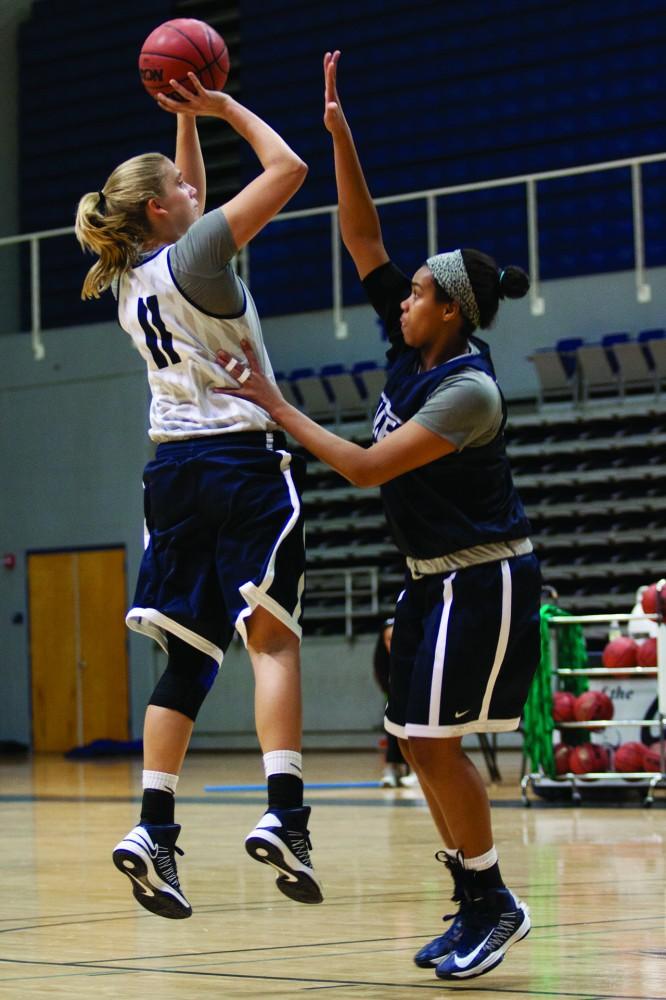 The 2012-13 UNF women's basketball team's goals going into this season are to avoid costly mistakes, to hit their free throws, and to have a stalwart defense. Since the team's 2011-12 season ended on a costly foul in the first round of the Atlantic-Sun Conference Tournament to Kennesaw State, Feb. 18, head coach Mary Tappmeyer said this year's squad can't take anything for granted.
"Turnovers were an issue for us last year," Tappmeyer said. "I'm okay with aggressive turnovers, but it's the careless turnovers that really make my hair go gray."
The team averaged 20.1 turnovers per game last season which is about five more turnovers than their opponents' average. These turnovers worked to counteract the team's strengths, eventually killing the chance of advancing to the second round of the tournament.
UNF ended last season with a 13-17 overall record and an 11-9 conference record. In comparison, the team proved abysmal on the road, posting a 3-12 record that the team looks to improve upon this season.
"I think it's difficult to go on the road and play," Tappmeyer said. "To win a championship we've got to try and win at least half of our road games."
An A-Sun preseason poll among coaches projected UNF to finish third in the league this season. They are predicted to finish behind Stetson, which has the A-Sun preseason favorite for conference player of the year in senior guard Victoria McGowan, and Florida Gulf Coast, which has two preseason projected All-Conference players in guards Brittany Kennedy and Sara Hansen. There are no UNF players on the A-Sun preseason watch list.
With the first four games of the schedule, UNF has to face their inadequacies on the road in games against the University of Miami, University of Central Florida, and University of Florida; opponents with large venues, noisy crowds and traditionally strong women's basketball programs.
"Every time you go to a gym with new kids, it's a new experience," Tappmeyer said. She also said the biggest thing she's emphasized in the off-season is getting stronger.
"We play really aggressive and really up-tempo," Tappmeyer said. "You have to have upper body strength and conditioning in this [kind of] offense."
UNF's offense includes three returning starters in senior forward-center Larkira Jones, who led the team with 7.7 rebounds and 41 blocks per game last season, senior guard Jadhken Kerr, who is UNF's all-time leader in three point field goals, junior forward-center Raneisha Lamar, who averaged 8.8 rebounds per game in her final 11 games, and junior guard Octavia Langston, who averaged 4.5 points and 2.3 rebounds per game.
The team's offensive strategy has been adjusted this season due to the quickness of the guards. Tappmeyer said the team's new strategy is called "a basic man offense."
This offensive strategy is brand new to UNF, and consists more of a motion offense with full reverse screens.
"I decided to put in the motion offense because we had a tough time guarding other teams that ran this offense last season," Tappmeyer said. "I figured that if we can't guard it, I should probably look at using it."
Senior guard Fabiola Josil said the team looks to not only run the motion offense but also a variety of other strategies, such as the pick and roll and pick and pop offenses.
"We've got a little bit of everything," Josil said. "We've got ball screens and spot up shooters."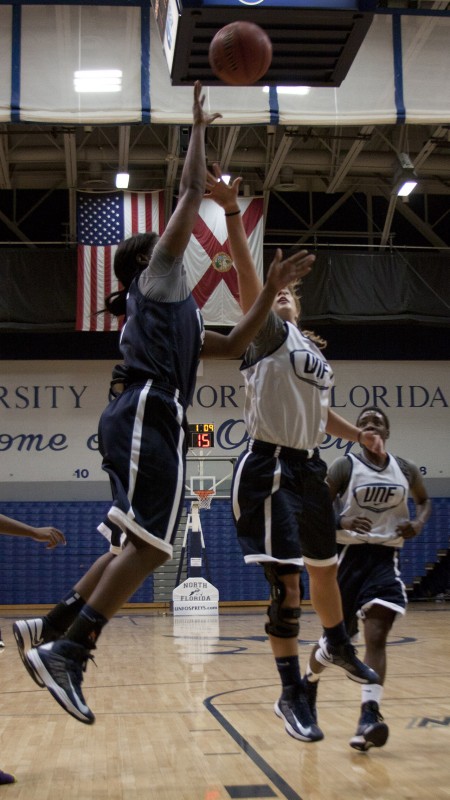 The team will also rely heavily on athleticism as the guards and the backcourt, which look to get playing time, take pride in their ability to outrun other players in this fast paced motion offense that focuses on creating turnovers which lead to fast break points.
"We had issues with giving up dribble penetration last season," Tappmeyer said. "Our rotations weren't very good so we've really harped on trying to keep the ball out of the net. We're playing the gaps a little bit more so [opposing offenses] can't see the floor."
The 2011-12 UNF women's team also seeks to improve on their previous season's A-Sun rank in three point field goal defense. By giving up a higher percentage of shots from beyond the arc than any other team in the conference, UNF placed last. Tappmeyer said that statistic initiated the change in defensive style.
Free throws also contributed to losses last season, as UNF ranked last in free throw shooting percentage, with only 61.3 percent of free throws making it from the charity stripe.
"The players that shoot below 70 percent have to shoot 100 free throws per day," said Tappmeyer. "If we had shot [at least] 70 percent, our record would have been 17-13 and not 13-17. That's something that individual players can take accountability for."
The combination of a quick, athletic defense and a variety of offensive attacks is bringing optimism to the program.
Tappmeyer said that if this team stays healthy, she expects to win the Atlantic Sun Conference Championship.
"I love it," Tappmeyer said, "this team's chemistry, personality, and their hard work, it's been a really enjoyable 22 practices. They're really committed to what we're asking them to do."