ESPN broadcaster and UNF alumna Sara Walsh returns to UNF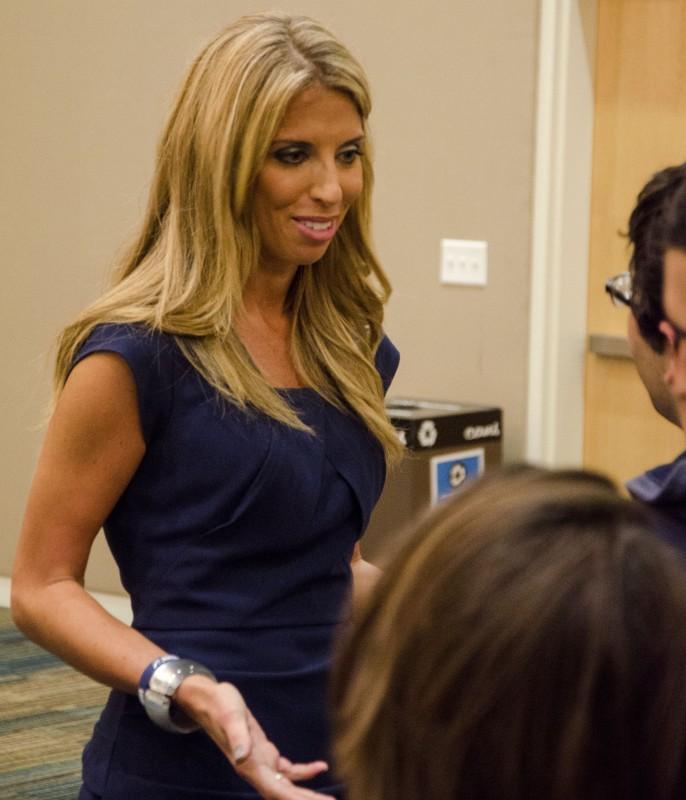 Emmy Award winning ESPN anchor and UNF alumna, Sara Walsh, visited the UNF Student Union ballroom Oct. 22.
Walsh began her journey of becoming a high-profile sportscaster at UNF, where she majored in broadcast media and starred on UNF's inaugural women's soccer team in 1996, when UNF was a Division II program.
"Being on the soccer team here helped me learn that I can get through anything," Walsh said. "The adversity, the struggle, the hardship of two-a-days in August can really help me get through anything in life."
Walsh still holds two notable records at UNF, now 16 years later, including the most points in a game from a combination of assists and goals, with a total of nine, and the record for goals in a game, at four.
Having earned honors in athletics, Walsh experienced similar success in broadcasting, earning four Emmys throughout her career. ESPN swooped on the opportunity to hire Walsh in 2010.
"It's just a matter of outlasting other people that want to do the same thing," Walsh said, referring to her big break.
Walsh began her career running teleprompters and reporting for a small Jacksonville newspaper, The Beaches Leader. Walsh then scaled the ranks, working for organizations in Georgia, Tennessee, then for the Washington Redskins' WUSA-TV — the job that catapulted her to working for ESPN in Connecticut.
"I wouldn't have gotten [to ESPN] if it hadn't been for the other [networks]," Walsh said. "Any ladder you go up has significance."
Walsh said her experience as a soccer player has become a valuable asset in helping with questions during interview processes.
"I think I try to [approach broadcasting] with the understanding that I was [once] in [the athlete's position]," Walsh said. "I try to come at people with the sense that I have an understanding of where [they've] been."
The now high-profile broadcaster had to start somewhere, and Beaches Leader Newspaper's Associate Editor Johnny Woodhouse, who oversaw Walsh as sports editor, introduced her to the world of reporting.
"Once we told [Walsh] how to grasp game-time scenarios, we never had to tell her anything twice," Woodhouse said. "A lot of times you see people that have played sports but don't know how to tell the story. She was one of those few that played sports and could still write it."
Woodhouse said Walsh "demystified" the stereotype that athletes can't write news articles, and that she's an extremely hard worker.
"The more you put on her, the more she did," Woodhouse said, who also added that he took Walsh to her first Jaguars game.
"She said informally to us that her dream was to be on ESPN,'' Woodhouse said.
Woodhouse said Walsh wants to be a sideline reporter for Sunday or Monday Night Football, and that he feels she has deserved such a position for some time.
"In my estimation she's capable of that," Woodhouse said. "She's probably been capable of that for a lot of years."
Though Walsh hasn't made it to the field level quite yet, her current position has managed to keep her entertained. Walsh is frequently caught between between the heated words of top ESPN personalities such as Todd McShay and Mel Kiper, nationally renowned NFL scout analysts.
"You never know what's going to happen," Walsh said. "It's not always the easiest thing and that's just part of the job."
Walsh referenced one segment of a debate between Kiper and McShay in which the two were yelling at one another on screen about which team, between UF and Oregon, should be the No. 2 team in the BCS polls.
Walsh, being the mediator stuck between the two personalities, said the hardest part about that situation was figuring out how to cut the two analysts off without coming off rude.