Osprey men outlast Owls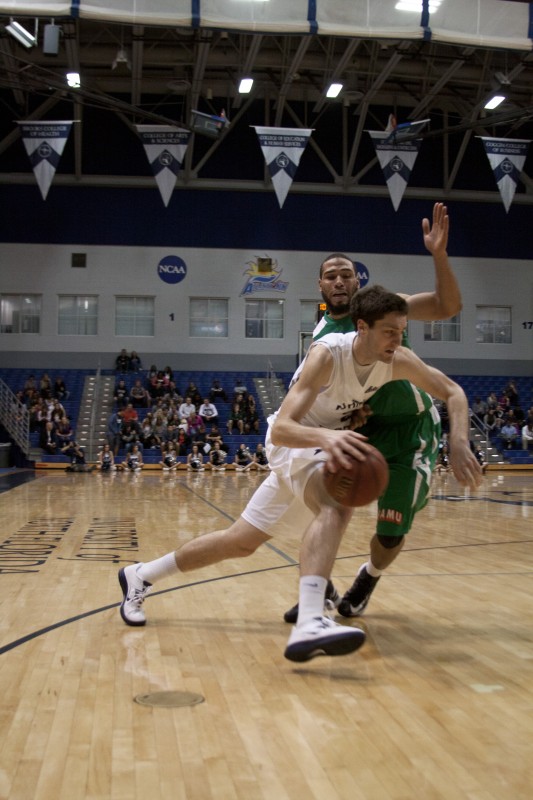 Jacksonville, Fla — The dynamic duo of senior Parker Smith and junior Travis Wallace lead the Osprey's men's basketball team to a 81-72 win over Kennesaw State Saturday night.
Smith scored 32 points, hitting eight 3-point field goals, and Wallace tallied 26 points and 6 rebounds to give UNF (8-11, ASun 3-3) the victory and end to a two game skid. Smith had to come out of the game briefly at the end of the first half after rolling his ankle, but was able to return to form in the second half, hitting four straight 3-point shots during one stretch.
Smith was coming off one of his worst offensive performances of the season, scoring 6 points against Mercer on Thursday night.
"I feel like I got a lot more movement, side to side, and we moved the ball a lot better [than we did against Mercer] and I was able to come off staggered screens. They set really good screens and the pass was there on time," Smith said.
Driscoll said that Smith was more relaxed and let the game come to him, as opposed to putting pressure on himself to carry the team offensively.
UNF gave up 28 points to KSU's Markeith Cummings, the leading scorer in the A-sun (18.6 ppg), but was able to limit the offensive production of the rest of the team. Nigel Pruitt (10 points) was the only other player for Kennesaw State (2-15, ASun 1-4) to score in double-digits.
"The one thing we've talked all year about finishing, and we talked about just the other day about finishing half's, and we finished the game 32-19 with not great free throw shooting down the stretch," head coach Matthew Driscoll said.
In the first half UNF was able to apply defensive pressure and draw offensive fouls, forcing the Owls into 14 turnovers and headed to the locker room with a 38-32 lead.
Driscoll gave the assignment of guarding Cummings to freshman Beau Beech to start the game, but switched the duty to defensive specialist David Jeune with nine minutes remaining in the first half.
"He's a monster," Driscoll said of Cummings, the 6-foot-6 240 pound senior guard. "David [Jeune] guarded his tail off. He took 24 shoots to get 28 points, that' pretty good defense."
"I'm just always in contact with [the player I'm defending] I'm always bumping them, trying to get in their heads. Sort of like KG [Kevin Garnett] minus the talking," said Jeune.
Once again the Ospreys were unable to get much production from the bench. The bench totaled 7 points, with Cameron Naylor leading the second unit with 3 points.
"The reason why I'm concerned about [the play of the bench] is because that is the one thing I've always had since I've been here," Driscoll said. "I'm used to getting more."
Beech was a perfect 4-4 from the field and finished with 10 points and 8 rebounds, including 5 offensive rebounds. Will Wilson had his fourth double digit assist game of the season, finishing with 11 assists.
The win moved UNF up one spot into 5th place in the A-Sun. Currently three teams are tied for first place with 4-2 records, including Florida Gulf Coast, JU and Stetson.
"It's a good league and every night you better be ready to play, and if you don't buy into that or you don't believe that, you have something seriously wrong with you," Driscoll said.
The Ospreys will face cross-town rival JU on Fri. Jan. 18.
"We're definitely excited to play JU, but it's just the next conference game and we know how to handle it. [The game against JU has] always been pretty big, just because of the rivalry, but we know what's at hand and we know what we need to do," Smith said.