Jax Jazz Festival in full swing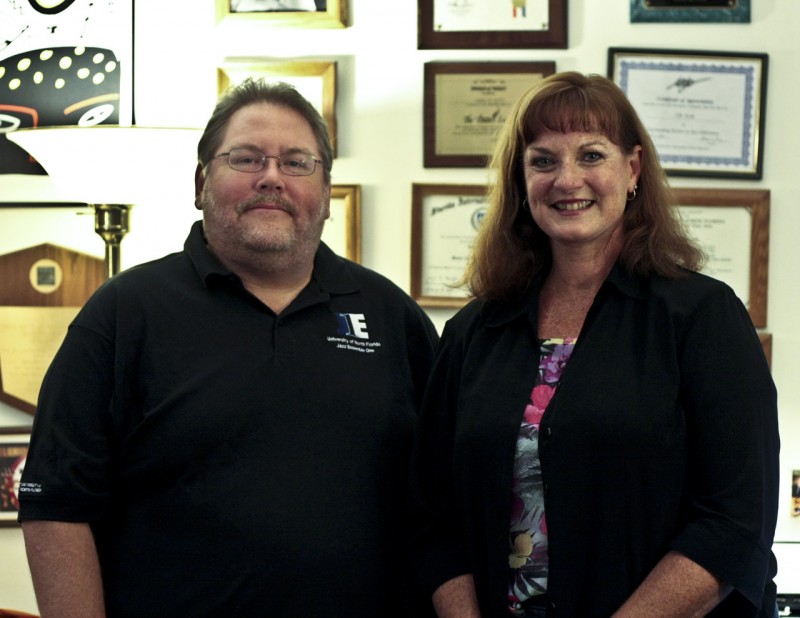 Two UNF alumni and local jazz enthusiasts, Lisa Kelly and J.B. Scott, will be hosting the 'Round Midnight Jazz Jam' sessions at the Jacksonville Jazz Festival with the Kelly Scott Quintet at the Jacksonville Landing May 24 from 9 p.m. to midnight.
The annual Jazz Festival is one of the largest in the nation, taking place downtown from May 23 to May 26. The festival has become a signature event for Jacksonville and offers world-class music and performances.
Kelly started the late-night jam sessions as part of the festival in 1997. The sessions quickly became popular and, by 2000, became an official part of the festival's Jazz After Dark series.
"We've been very involved in keeping the integrity of the festival," Kelly said.
The couple has several professional groups, including the Kelly Scott Quintet and J.B. Scott's Swingin' Allstars.  Kelly said all the groups she works with perform different styles of jazz; all swing-based.
Kelly graduated UNF in 2000 with a B.M. in Jazz Studies. She is a five-time Downbeat Magazine Award winner, earning four top-vocalist awards and one for best original composition.
She said music is a great outlet for a group that wears so many hats – as mentors, tutors, entertainers and aficionados.
"It's really about the legacy of the music," Kelly said. "It feeds you."
She said all members of the Kelly Scott Quintet represent UNF as either faculty or alumni.
Scott graduated UNF in 1989 with a B.A. in Music and Jazz studies, and a Masters in music education. He was the first graduate of the UNF jazz program, which celebrated its 25th anniversary this year. Scott has also been teaching UNF's award-winning Jazz Ensemble One  for 16 years.
Scott was also a former musical director for Dukes of Dixieland, a New Orleans jazz group founded in the late '40s.
Danny Gottlieb, the band's drummer and UNF's drum instructor, has been on many Grammy Award-winning projects. He was the first drummer for American jazz guitarist Pat Metheny, and currently plays in Gary Sinise's 'Lieutenant Dan Band'.
Bassist Dennis Marks teaches UNF's Jazz Ensemble Two, and was Arturo Sandoval's bassist for 16 years.
The band's pianist, Joshua Bowlus, is a UNF business graduate and works with Kelly and Scott throughout the year.
Kelly and Scott first met on campus when Scott returned to UNF to  teach music while Kelly was finishing her degree.  Their first professional gig together was in 1997 at the Montreaux Jazz Festival in Switzerland, where Kelly released her debut solo album.
"We've been making music together ever since," Kelly said.
Today, Scott is an associate professor of jazz studies at UNF, where he teaches trumpet, and a jazz history course. He also teaches an online History of Rock and Roll course. He said the UNF music program has grown exponentially since he graduated.
"The program here is immensely strong," Scott said.
Kelly and Scott were also profiled in Cicily Janus' book, "The New Face of Jazz", which can be purchased at Amazon.com.
The couple has mentored many students and music aficionados, and tries to recruit students to UNF whenever possible.
She said much of today's pop culture music is fly-by-night and watered down – but serves its purpose. Jazz is a higher level of music, Kelly said, a lifetime investment where you never stop learning and evolving.