Professor emeritus honored for communication contributions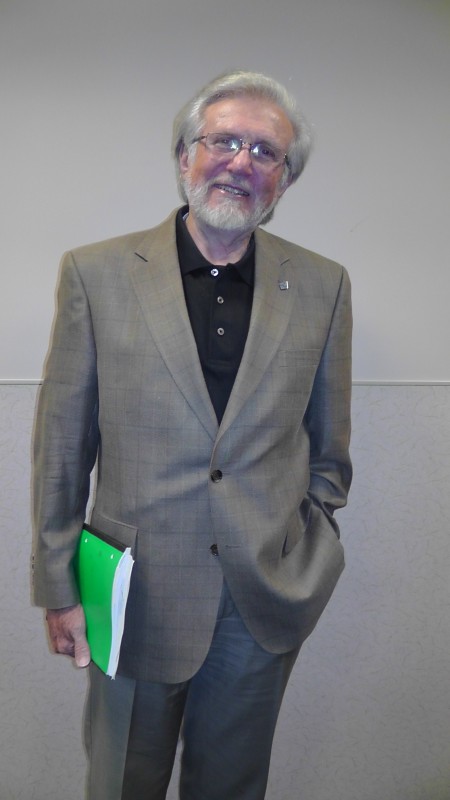 The Spinnaker turned 35 this year, and those who helped pioneer the paper's legacy will not be soon forgotten.
UNF's first professor emeritus and vanguard of student journalism, William James Roach, passed away May 17. According to Professor Emeritus Dr. Gary Harmon, Roach played a central role in establishing UNF's journalism and communication departments.
"My dad was so many things to the University," said Patricia Holly, Roach's daughter.
Holly said Harmon and Roach worked side by side throughout their career, and provided the support that allowed UNF's communication department to flourish into a major.
She said Roach worked in every aspect of his field: radio, newspapers, magazines, TV, and more.
Harmon said Roach helped establish the first student-run paper, The Mariner, created more jobs for teachers, brought in more students to teach, and lifted the level of reading, writing and sophistication among studentsl.
History
Harmon arrived at UNF in August 1971, when there were no buildings, no faculty, and no students.
"There was nothing," he said. "Just a dirt road, and the bus that brought us here."
He had previously served as an administrator at two universities before coming to UNF.
Harmon was chair of the English Department that hired Professor Roach to the Department of Languages and Literature in 1973. He said he found Roach to be a perfect candidate, already having two established careers.
Roach had 20 years experience in the navy, and retired as a commander. He was the public relations representative for admirals, ships and officers. He was a Naval Correspondents Training School instructor in Chicago, Ill., for 10 years before founding the journalism department at the College of White Plains in New York. He then earned his Masters in journalism from the University of Georgia.
"Bill was a virtuous worker," Harmon said.
UNF needed a practicing and practical, hands-on journalism director at that time. Fortunately, Roach had recently moved to Jacksonville so his wife could be closer to her family.
"It was a match made in heaven," Harmon said. "We absolutely needed someone with his experience, and he needed a job here."
Harmon said the two wanted to establish UNF as a source of communication among Jacksonville's business professionals. At that time, however, UNF was not permitted to have journalism or communication as a major, and English was the primary major for students pursuing journalism.
"We had to fly under the radar of the Board of Regents," Harmon said. "If they saw a major, they would veto it immediately."
So, rather than a major, a new literature/communication track was added, which allowed the curriculum to be taught. Although English enrollment was dropping across the country, UNF's newly established literature/communication track brought in lots of new students.
Harmon said Roach's experience helped grow the program by teaching and engaging the students. Once the faculty grew to 5, the Board of Regents could not ignore the program's growing success and decided to move the staff out of the language and literature department.
"He saved the literature faculty," Harmon said.
Harmon said Roach's magnetic personality grew the curriculum and prepared hundreds of students for a career in the communication business.
Spinnaker History
Harmon remembers that when Roach first started, the two discussed the need for students to do hands-on journalism, and decided UNF needed a free press newspaper.
"You never know how that's going to fly," Harmon said. "Turning a bunch of students loose on campus to report whatever they find interesting."
Harmon said some convincing had to be done; he knew what campus presidents felt like when the campus suddenly became a source of sensation in the community.
UNF's first president, Thomas G. Carpenter, wanted a publications board before implementing a student-run free press. The publications board consisted of Harmon and Roach, President Carpenter,  criminologists, lawyers and several other faculty members.
"All together, we decided what a free press was," Harmon said.
Soon after, several budding student journalists got together at a place where they could type up campus events without any official sanction. Shortly after, The Mariner was born, and was adopted by the university.
Harmon said this was just the first step to having a real student newspaper.
Space on campus was at a premium. Harmon said the VP for academic affairs at the time helped provide a budget to print the paper, a trailer for an office, and equipment, like light tables, for production.
In 1974, The Halyard became the official name of UNF's free press newspaper. From the tiny, mobile office, the paper was designed and edited, then sent off to be printed and distributed on campus. The Halyard ran from 1974-1976, until  it was renamed to The Phoenix (1976-1977), and finally, The Spinnaker, which remains its name to this day.
The first issue of the Spinnaker ran Aug. 17, 1977.
Today, the communication program is the campus' largest program and is part of UNF's College of Arts & Sciences, the largest of the UNF's five colleges.
Since Roach and Harmon's time at UNF, the campus has seen a level of student professionalism that has persisted throughout its history.
The Spinnaker's online counterpart, Spinnaker Digital, started with the newspaper in 1995 and eventually became its own department in 2011.
This Fall, the 35-year-old Spinnaker is hoping to transition from a weekly newspaper to a monthly magazine.
James Cannon, Spinnaker editor in chief from 2009-2010, is currently the group online editor for the Hearst newspaper West Texas division. Cannon graduated UNF Spring 2010, and said the transition to a monthly magazine would be great.
"It's an awesome idea," Cannon said. "As long as the Spinnaker doesn't forget it's a news station."
Harmon said the switch to a magazine should not move the focus off news. He believes universities absolutely need a place where students have a free press.
"But," Harmon added, "you need it to be read."