The Jacksonville RollerGirls, known for their brutal athleticism and flat-track venues, visited the UNF Arena June 8 for a double-header, including a battle of the sexes against the nation's #4 male derby team.
At 6 p.m., the River City Rat Pack faced off against Atlanta's Sake Tuyas. At 8 p.m., the New Jax City Rollers faced Jacksonville Men's League's team, the Magic City Misfits.
"The Atlanta team is really difficult," said Heather Boos, vice president of the league and 2009 UNF alumna. "They're ranked number 7 in the world."
The Jacksonville RollerGirls are a Division 1 roller derby team, founded in March 2006, currently ranked 35th in the world. It is Jacksonville's first and only all-female, flat-track roller derby league, comprised of 60 skaters among four teams. There are two travel teams and two home teams. JRG is owned and operated by its members as part of the Women's Flat Track Derby Association.
The Jacksonville Men's League, the Magic City Misfits, is currently ranked number 4 in the nation.
Keri Lewis, PR representative for the league and 2002 UNF alumna, said roller derby is the fastest growing female sport in the nation, but also said Jacksonville's fanbase was not growing as she hoped.
"We have fans from all over," Lewis said, "but not a lot of students."
In the past, UNF has hosted four JRG events per year. However, because of low attendance, Lewis said they have had to scale back.
Attendance for the June 8 event, including the teams, was around 800. Head coach Nicole Anderson said attendance was much higher in the past: around 2,000 in 2011.
"It's hard to reach out to such a large city," Anderson said.
Saturday was JRG's third and last event on campus for the year. Anderson said there likely will not be any matches at UNF in 2014 unless things change. She encouraged students to sign up, spread the word, and buy tickets to some of their local events.
"UNF offers some much-needed legitimacy to our sport,"  said Boos, who graduated from UNF with a Master's in sociology. "If we didn't have fans," Lewis said, "it wouldn't be worth skating."
To the uninitiated, derby girls can have an intimidatingly aggressive reputation. However, JRG is not solely known for their athleticism, but are also recognized throughout Jacksonville for their volunteer efforts. The RollerGirls are passionate about helping the community and adding excitement and fun to charity events. If the team is forced to disband, many local charities would suffer from the loss of their continued support.
"If anybody asks us to do anything for charity, we're on it," Lewis said.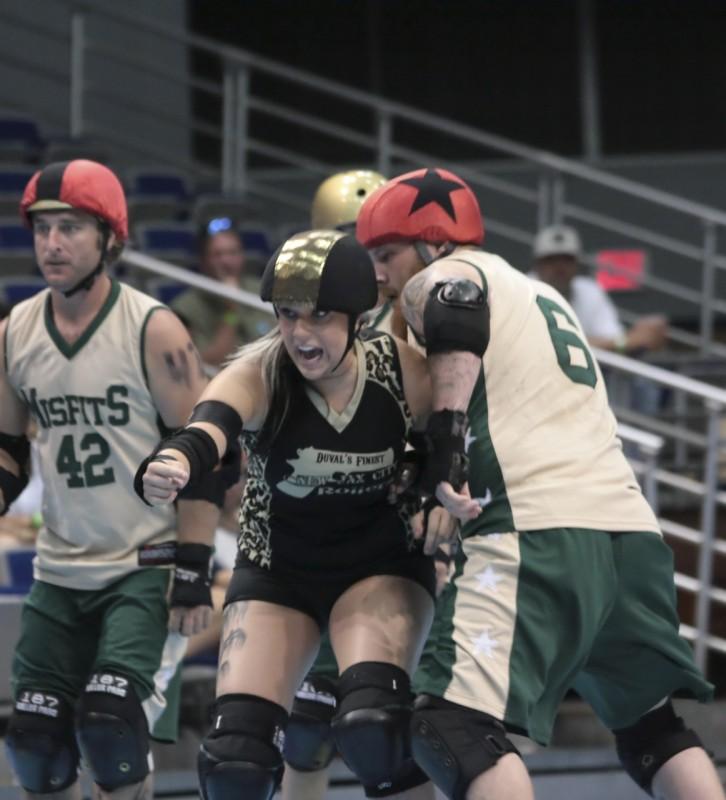 Anderson said JRG prides itself on its donations and contributions to the community. The team and staff regularly make appearances at local events, donating time, labor and goods to organizations such as St. Jude Children's Hospital, Toys for Tots, the Children's Miracle Network and the Susan G. Komen Race for the Cure. All members volunteer and dedicate their time to promoting a full-contact sport that is thrilling for both players and spectators.
"We hit hard, but we're all very cordial outside the ring," said Shannon Young, a fine arts graduate from FSU and former jammer for Tallahassee RollerGirls' team Capital Punishment. "There are so many memories with [JRG].
Jacksonville's two all-star home teams.
The top 40 teams in Division 1 will follow through to the playoffs at the end of the season.
The JRG junior travel team for girls ages 8-17, the Duval Roller Dolls, is currently ranked 13th in the nation and are undefeated on the road. The JRG junior league is entering its second season.
Boos said she hopes roller derby continues to evolve, and sees Junior Derby as the future of the sport.
Her hope is that roller derby can continue to promote a safe but fun environment for both men and women to develop their leadership, teamwork and athletic abilities.