Moon Jr. leaves UNF basketball, cites family ties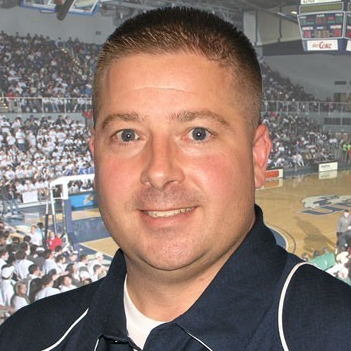 Head UNF basketball coach Driscoll replaces Moon Jr. with Perkins
Following the departure of assistant coach Lee Moon Jr., UNF men's basketball announced the hiring of coach for the same position Aug. 26.
Moon Jr. is the son of current UNF Athletic Director Lee Moon Sr.
Moon Jr.'s basketball knowledge and connections will be missed. He has ties all over the college basketball realm, including his work at Fresno State, a tight relationship with renowned Florida coach Billy Donovan. He recruited "The Manimal" Kenneth Faried, who now plays for the Denver Nuggets, and coached Indiana Pacers star Paul George while at Fresno State.
Citing family ties and availability as main factors, Moon Jr. decided to take a job away from basketball selling dental equipment to better suit his needs, foregoing his love for the game. The 35-year-old left with more than a decade's worth of experience around the court.
Driscoll said the move was 10 weeks in the making.
In his only season with UNF, the Ospreys squeaked into the Atlantic Sun tournament as the seventh seed with a 13-19 record, only to lose to the eventual A-Sun champs, FGCU.
Perkins, Moon Jr.'s replacement, worked with current UNF head coach Matthew Driscoll as a student assistant coach when the two were at Baylor from 2006 to 2009. There, he was part of a Bears team that made its first NCAA tourney berth in 20 years.
"[Perkins] walked into my office at age 36 and didn't have his degree," Driscoll said of his new hire when they first met at Baylor. "He said, 'Coach, my wife's got a job here and I don't know if you guys have managers or whatever, but I was a high school coach for "x" amount of years and I'm getting my degree. I'd like to be a manager.' I said okay, great. And that's how our relationship started."
Perkins graduated from Baylor in 2009 and got a job at Polk State College where he worked as an assistant and eventually associate head coach. He helped bring the Polk State Eagles two Suncoast Conference Championships, including a tournament championship in 2012.
"My years at Baylor helped me a lot," Perkins said. "I've been around a lot of basketball and I'm familiar with the terminology [used at UNF]."
Perkins said he is familiar with the current crop of UNF players because he has seen them play and recruited some of their teammates to play at Polk State.
"I'm used to recruiting Florida and Georgia kids," Perkins said.
While coaching at the high school level at Collinsville Christian Academy in Illinois, he led the team to two top 5 rankings in NACA polls in his eight years. Perkins also earned conference Coach of the Year honors in 2005.
"He's done everything, because he's been at that level with no resources. So that fits in here. When you don't have certain things, he understands, you roll up your sleeves and you do what you do," Driscoll said.
Athletic Director Moon declined to comment on the hiring citing that it is Coach Driscoll's responsibility and therefore his decision on who to hire on the basketball staff.
Moon Jr. had a little history with Coach Perkins when the two were in basketball clinics earlier in their careers.
"[Perkins] is a very good person for the job," Moon Jr. said. "And he's very passionate about the game of basketball."
The new assistant will have to hit the ground running with the season just around the corner. Perkins said that he has to familiarize himself with the terminology used at UNF be he feels confident about the program and its future.