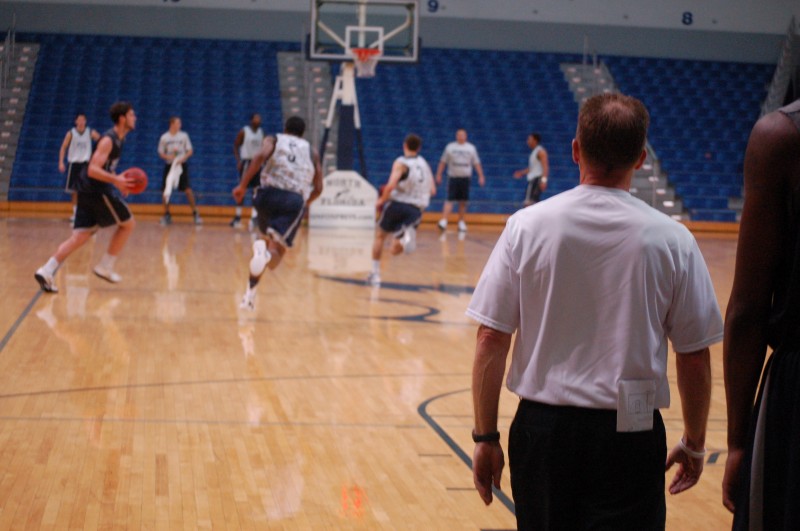 JACKSONVILLE, Fla. — Head basketball coach Matthew Driscoll is still trying to nail down the names of his players.
"Hey, what's your name? Dallas," Driscoll said to freshman Dallas Moore after a drill.
Driscoll will have plenty of time to pair names with faces before UNF's first game of the season. It's still early — earlier than ever in fact.
The men's basketball team took to UNF Arena Friday for its first official practice of the 2013 season — about three weeks earlier than in past years.
"It's kind of a new rule that just came into affect this year. They are trying to give more time off but still give you the same amount of days so to speak," Driscoll said.
The team will practice less during the week, five days on and two off.
If the average fan from last season walked into a practice this year, they would be hard pressed to find a familiar face. The team has eight new players.
Familiar faces included sophomore Beau Beech, senior Charles McRoy and sure to be pre-season all conference Travis Wallace.
Beech was arguably the sharpest of all Ospreys in the first practice, hitting a variety of 3's from everywhere on the court. Demarcus Daniels, formerly known as BaeBae, also impressed with his athleticism.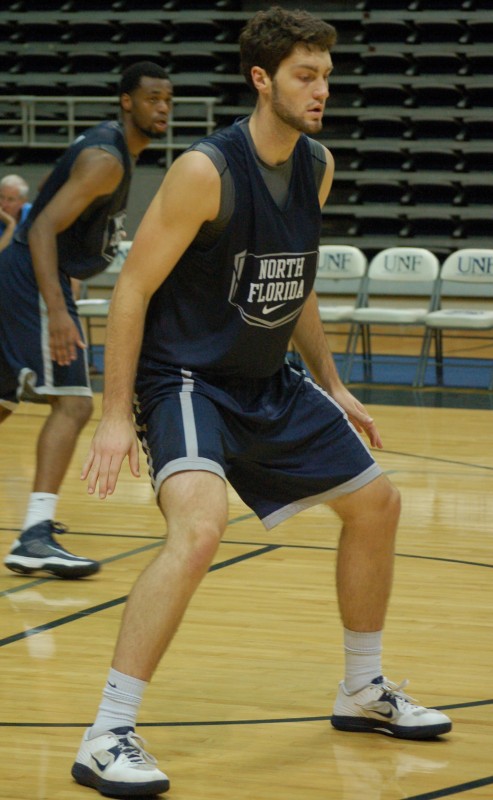 Three of the most highly anticipated freshmen were on display for the media for the first time Friday: speedy lefty Dallas Moore, former Georgia Tech recruit Chris Davenport and 6-foot-11 center Romelo Banks.
Moore will fight it out with two other new players for the point-guard spot — freshman Sean Brennan and Pensacola State College transfer Devin Wilson.
Davenport is an athletic freak, but much like Banks, is still a raw talent who will need extra time in the weight and film rooms.
Driscoll said he has to remind himself the team has time to improve its conditioning.
"Because we are three week earlier I've got to be smart enough to understand that the guys aren't gonna be there yet," Driscoll said.
Banks, the tallest player to ever wear a UNF jersey, said improving conditioning was first on his list.
Beach, though still young, said he was asked by Driscoll to step up and become more of a leader — and lead he did.
He was the most vocal player on the court, talking to each of the new players and helping them find their way on the court.
Beach, Wallace and the rest of the Ospreys will travel to Gainesville Nov. 8 to take on the University of Florida for the first game of the season.