Students rally in Tallahassee for local and state-wide issues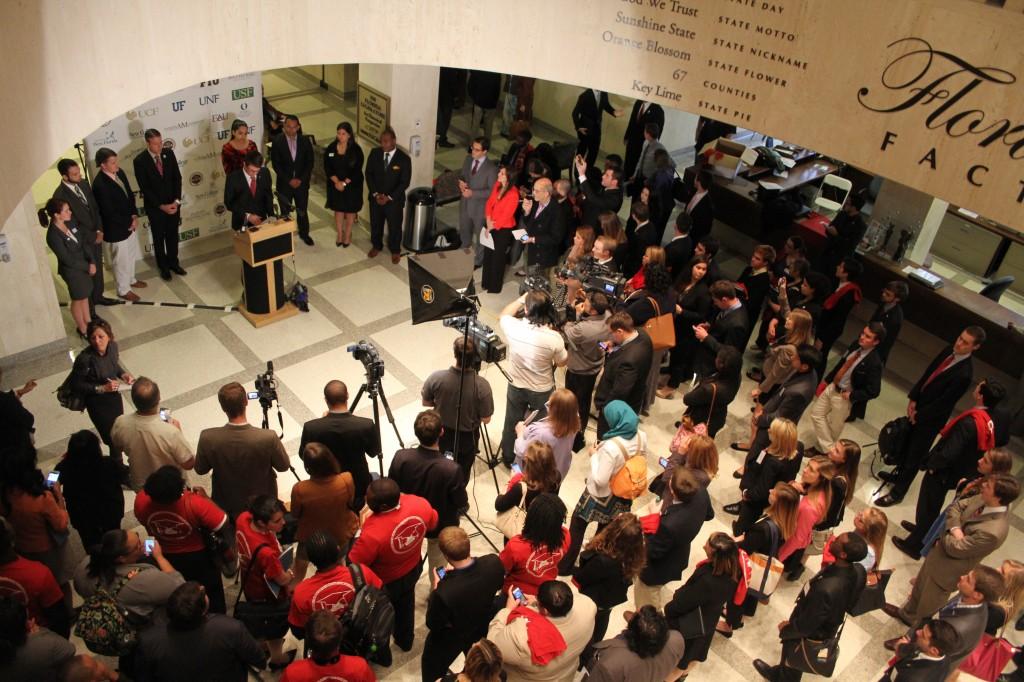 On March 26, a group of 18 UNF students and SG representatives traveled to Tallahassee.
Groups of students from most major state universities came to the event. This year, UNF had the biggest student turn out. This comes after a local rally at UNF.
At the press conference featuring Adam Putnam and Representative Nunez, UNF Student Body President Carlo Fassi spoke on behalf of the Florida Student Association.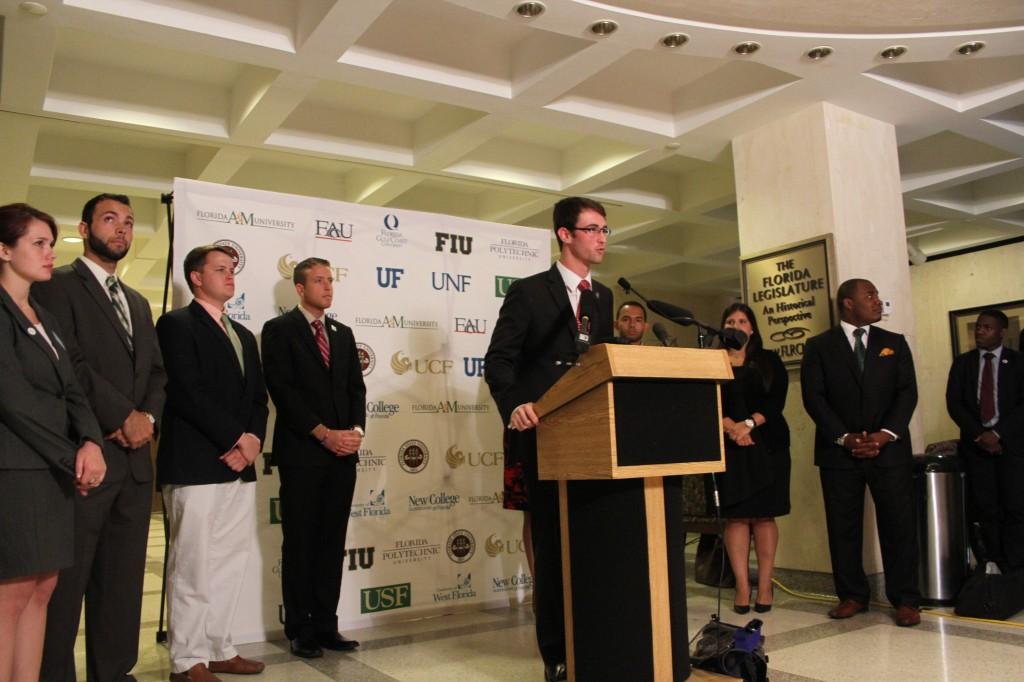 The conference was on the topics of in-state tuition for undocumented residents and veterans, and facility funding.
Leading up to the rally, UNF students have been writing postcards to our state representatives to show that they care about these issues. SG representatives delivered these postcards to them today.
The bill mentioned is backed by Commissioner Adam Putnam and would allow UNF and public universities statewide to make necessary renovations plans to take 1.7 percent of the state's tax for energy and add it to a fund for education called the PECO fund.
Fassi said the governor has not said he supports this new system yet.
Putnam said the current system is not sustainable.
"We need to make a long term investment in the future"
UNF is currently asking for $9 million from the state to renovate Skinner-Jones Hall. The renovations would add a third floor to both buildings, upgrade classrooms and research spaces for students in STEM programs.
The bill HB-851, filed by Republican Representative Nunez, is designed to prohibit the denial of classification as a resident for tuition purposes based on certain immigration statuses.
Nunez said she's proud to be a sponsor of this bill.
"I stand ready and committed to making sure these children are given the opportunity to fufill their dreams."
Students were also able to go talk to Senators about these issues. They were split into groups, and each one met with a different senator.
Kyle Rigby, computer science senior, said he came because he wanted to see the Capitol. He said the best part was getting to go in and  speak directly with state representatives.
Chrisney Frederick, political science junior, said she came because she thought, especially with her major, it would be beneficial to see what goes on in the Capitol.
"I'm a student, so these issues matter to me. The things they're talking about and the decisions they make here affect me. I've taken classes in building three, and it isn't up to par."
Steve Staudt, community health junior, said he thought trip would give him good leadership experience.
"I learned a lot and I met people I otherwise wouldn't have."
He said the trip gives students a great opportunity to come out to support and represent our school.
Email Tiffany Felts at [email protected]