Breaking records and taking names
Not one to bask in the glory, Emelie Alpe is looking forward to what she does next. On Sept. 8 at the Memphis Intercollegiate tournament, Alpe posted a round score of 70, which is a record low for the UNF women's golf program. For someone who has been playing golf her entire life, this is a moment she will cherish for years to come.
Originally from Sweden, this is Alpe's fourth year in the United States. Golf has helped ease that transition, along with the fact that fellow teammate Nathalie Nygren is also from Sweden.
While golf is not the most popular sport in Sweden, Sweden does have an extensive list of professionals that have won multiple titles. When asked if she has any professional golfers she looks up to, Alpe replied Annika Sorenstam, who is a retired Swedish Ladies Professional Golf Association (LPGA) pro who has the most wins of any female golfer.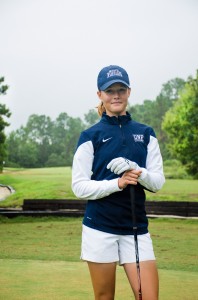 Golf, originally thought of as strictly a men's professional sport for years, has been on the rise in terms of popularity among women over the past decade. The University of North Florida is a part of this popularity with a program that has been competing since 2012. Looking to build on last season's efforts where they tied for fourth in the Atlantic Sun Conference Championship, the team, with the help of Alpe, is looking to land their first tournament win.

Alpe's first year in the U.S. was spent at Arkansas Tech University, where she honed her skills at competitive golf and managed to collect three top 10 individual finishes for the Golden Suns before transferring to UNF in the spring semester of 2012. During her first year of playing golf for the Ospreys, she was added to the Atlantic Sun All-Freshman team and posted her best 54 round score (224) at the Web.com tournament.

"I definitely believe Emelie is one that goes above and beyond of what we ask of her," said Head Coach Joanne Berglund in response to Alpe's presence on the team. "During practice she is very focused, she definitely comes in with an agenda with what she needs to do."

Coach Berglund believes these few things have really helped her excel in the golf program here at UNF despite her ever so slight language barrier.

"Emelie works really hard on her English language, as well," said Berglund. "The team is very patient."

One of Alpe's biggest challenges, according to Berglund, is dealing with people she doesn't get to communicate with on a regular basis. Fortunately, the other golfers on the team are always willing to answer any questions she might have. According to Berglund, Alpe is anything but shy.

Berglund's coaching style is one that urges the players to "focus on the moment at hand." Alpe and Berglund were both unaware that she was breaking the UNF women's golf record during their match in Memphis.

"She shot a 67 one day in qualifying, she's had a lot of rounds under par, and so it wasn't a surprise to me by any means," said Berglund. "I think the big difference from this year to last year is she's been able to really bounce back."

The Ospreys ended up finishing 10 out of 12 in the Memphis Intercollegiate tournament with Alpe leading the way for the Ospreys, tying for 22 overall. Alpe believes that she can improve on her record round of 70 as the season progresses.

"My misses are getting smaller and my short game is getting better, especially my putting."Alpe said when asked about her improvements from last season.

Alpe loves golf whether it is teeing off, chipping out of the sand or putting to make par. She is a tough competitor who hopes to play professional golf when she gets through with college. When asked if she will ever get tired of the game, she enthusiastically replied, "No, I love every part about it."

Gallery photos by Robert Curtis

[doptg id="38″]

Email Charles White at [email protected]