Number two, says who?
With second half domination, No. 2 in the Atlantic Sun Conference, the University of North Florida Ospreys won their second-straight conference victory on Jan. 14 with a dominating 80-64 victory over No. 1 Florida Gulf Coast University Eagles.
In front of a crowd of 3,189 in the UNF Arena the Ospreys (10-9) won this A-Sun match up against the Eagles (11-7). The Eagles won the 2013 A-Sun Championship, leading to a famous run all the way to March Madness.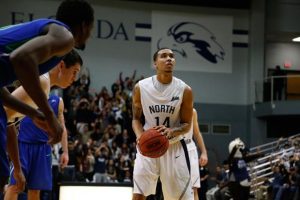 During the first half, the Ospreys were down 11 points before going up by two at the half. Chris Davenport, UNF's key starting forward, was ejected from the game after receiving two technical fouls. At that point, Davenport had played a total of 10 minutes with six points and four rebounds.

After halftime, Dallas Moore, UNF's starting guard, led the way with a total of 27 points and nine assists, adding a greater deficit over the Eagles. In for Davenport, UNF's Demarcus Daniels stayed on the glass with eight rebounds and a total of 15 points. Together, Moore and Daniels scored 42 of the 80 points the Ospreys put up.

With a short week in front of the Ospreys, they can enjoy their wins over their rivals, Jacksonville University Dolphins, on Saturday and A-Sun Conference favorite, FGCU, tonight.

Next on the men's schedule is a road trip to Stetson University with a tip-off at 1 p.m. this Saturday, Jan. 17. This will be another important game for the Ospreys in the race to be the best in the A-Sun by the end of the season.

Gallery photos by Camille Shaw

[doptg id="102″]

*1/15/2015 at 10:42 p.m. – Updated with video
---
For more information or if you see an error in this story or have any compliments/concerns, contact Jordan Ferrell [email protected].