UNF's Guru of the Big Dance: Dr. Jay Coleman explains implications and speculations of an automatic-bid
He's from Clemson, S.C., loves playing golf, is a father of two, a published author and has held more positions at the University of North Florida than you can wrap your head around. Currently he is the Richard deRaismes Kip Director of Operations Management and Quantitative Methods at the Coggin College of Business at the University of North Florida. If all of that isn't enough for you he is also serving as the university's Interim Associate Provost for Academic Programs. The long and short of that unfamiliar title is he is the man all of UNF's Deans report to.
What you don't know about Dr. Jay Coleman yet is that he is also a statistical guru when it comes to predicting which teams will have the privilege to compete in the NCAA Tournament and he thinks North Florida has a good chance of dancing their way into at least the second or third round.
Over the years bracketology has transformed into a huge point of interest when the month of March rolls around. The bookies start sorting out debts they are still owed, while the gambling fiends and sports junkies froth at the mouth in anticipation for seeds to be announced and the odds to hit the wire. March is, after all, the month to see some uncharted and completely obscure team slash their way through various upper-echelon opponents in miserable places like Dayton, Ohio. But, anything that can bring the NCAA Division I coach with the most wins to tears has to mean something. Whether it was utter sadness over the loss to a No. 14 seed (Mercer) or arcane happiness over how beautiful an upset can be, Mike Krzyzewski's emotions encapsulated the essence of March Madness.
This is what can make that madness in the month of March all too real at times. Duke's embarrassing loss to an ex-Atlantic Sun Conference contender last year was enough to make you question your entire bracket sheet and with a little bit of luck – and best wishes from Turner Broadcasting System executives – quit watching college basketball altogether. But we, the fans and sports hooligans of America, don't care about ratings and trivial stats – or do we? At least some of us do and Dr. Coleman is one of them.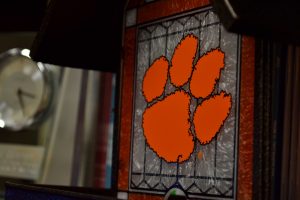 When you step into his office you will immediately notice various papers and charts on one side of his desk and two computer monitors side-by-side on the other. On one of those monitors you'll likely see his e-mail and on the other, the software program he uses to calculate his Dance Card formula. You will also notice variously scattered pieces of Clemson memorabilia around the room, but not enough to make you think he is a UNF turncoat. No, no, this man has a mind wired for analytics and one thing you learn after being around number junkies for long enough is that they are always paying attention to that last decimal point and are never too far away from an exit.
Coleman, a self-proclaimed sports fanatic for many years, is one of two original authors of the "Dance Card" formula, which is an analytical system used to predict which teams will receive an at-large tournament bid from the ten-member NCAA Tournament Selection Committee. Over the past three seasons, Coleman's "Dance Card" has accurately predicted 108 of 110 at-large bids.
So, what's an at-large bid? The easiest way to explain it is a bid for a team that resides in one of the larger D-I conferences (ACC, Big East, Big 12, Big Ten, Pac-12, Sec, etc.), which historically have had at least four teams apiece who compete in the NCAA Tournament each year.
The Dance Card formula has gotten attention from numerous publications such as Sports Illustrated, ESPN The Magazine, Forbes, The Wall Street Journal and most recently a physics website, Phys.org.
"It's kind of crazy the cross-section of interest that it gets," Coleman said, "but I think it is a perfect illustration of how popular the tournament is in the first place."
Dr. Coleman has been at UNF since the dawn of Osprey basketball and longer in fact – 27 years to be precise. Before that, in his college days at Clemson, he witnessed Cliff Ellis – the most winning coach in Clemson history – and the sensational 6 foot 10 inch power forward, Horace Grant, run amok in the ACC and rack up 25 solid wins during the 1986-1987 season. In some circles, this automatically makes him the most reliable source for a prediction on how UNF stands to fare in the upcoming official bracket selection on Sunday. He's careful not to overstep his boundaries though. His formula is designed to predict the teams that will enter the NCAA Tournament, not who will claim the golden spot at the top of the hill in the final hour.
"Watching them [UNF] doing what they are doing right now, is really awesome," Coleman said when asked about his feelings on the Ospreys this season. "I can't emphasize it enough, as a sports fan, to see it go from square one to this, it's just awesome."
And awesome it is. The Ospreys have long awaited this chance to finally declare to the nation that they are a worthy basketball team and are here to play.
As it stands now, North Florida, along with 11 other teams are in limbo until Sunday. The self-proclaimed wizards of basketball breakdown will tell you that UNF is destined for a play-in match. Others speculate that the Ospreys will get an outright sixteen-seeded bid and go up against either Kentucky or Virginia.
The hours get longer as that meaningful day of finality creeps closer. The anticipation builds and the hype from winning the conference championship slowly sinks into a nervous, giddy happiness. For North Florida, there are several predictions on the table and none of them look favorable, but speculations are just speculations until you put some data behind them.
"Now granted Gulf Coast made a run, but just look at what happened to them," Coleman said, referring to the Eagles' impressive stint in the NCAA Tournament two seasons ago. "I think this team is good enough, and they shoot from the outside so well, that we could beat some teams."
Florida Gulf Coast got the automatic-bid into the NCAA Tournament during the 2012-2013 season by winning the A-Sun Conference Championship against Mercer. The Eagles were given a No. 15 seed in the South Regional on Selection Sunday, bypassing the play-in match. FGCU went on to defeat No. 2 Georgetown and No. 7 San Diego State in the second and third rounds before getting handled by the University of Florida in the Sweet 16.
Last season, Mercer took home the A-Sun Championship title and got an automatic-bid as a No. 14 seed in the Midwest Regional. Mercer, in a complete surprise, went on to upset a No. 3 seed (Duke) and then suffered a bitter 20-point loss to No. 11, the Tennessee Volunteers.
According to Dr. Coleman, this most recent chain of events in the A-Sun is a definitive reason why UNF might be able to recreate a similar splash in the world of college basketball. It's important to remember at this point that Rome wasn't built in a day and that Dr. Coleman comes from a business background with a Ph.D. in industrial management. His formula, as he would explain it, is simply a metaphor for what can be done in the business world, dollars and cents if you will, which are exactly what this automatic-bid for UNF equates to.
"I'm seeing people with their fingers in the air looking for tickets like you would at a Gator game or a Clemson game," said Coleman, thinking back on the A-Sun Championship Final at the UNF Arena.
Winning the conference title alone has garnered the Ospreys enough attention to bring UNF alumnus and ESPN anchor Sarah Walsh back to her home turf for interviews with UNF's Head Coach Matthew Driscoll and team standouts, Dallas Moore and Beau Beech. As tournament time nears the amount of eyes which will see North Florida's name on a bracket increase by the hour.
"60 million plus people in the United States fill out a bracket," Coleman explained. "Even people who aren't sports fans do this, and so if nothing else our name is in front of 60 million people. That's not even counting the people watching on TV. Just to see our name on there is big."
Unfortunately, UNF's future rides roughly in the palm of the NCAA Selection Committee and the day of reckoning is at hand. While Coleman's formula relies on the RPI (Ratings Percentage Increase) and the favoritism of the committee, all of that doesn't necessarily cross over in the process of selecting seeds.
UNF's RPI rating for the majority of the season has never risen above 150 in terms of ranking. To give that some point of reference, Duke has remained above 15 in RPI ranking for the entire season. Coleman believes the best scenario for UNF is that we get selected for a play-in match, which would pit us against Lafayette, Manhattan or Montana in current predictions.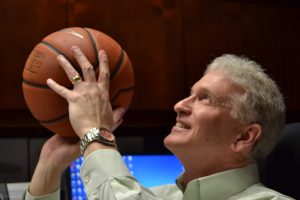 "The good news about that is you are playing a team you can beat, you are playing a team similar to yourself and even though we call it a play-in game, it's an NCAA Tournament game. You have a legitimate chance to get an NCAA Tournament win and then you have the opportunity to play another NCAA game, which is not only good for exposure but there is a direct reward financially."
According to UNF's resident doctor of dance, North Florida will earn the Atlantic Sun Conference approximately $1.6 million per game that they play in the NCAA Tournament. The implications are huge if UNF gets dealt a play-in match in the first round and wins. Two games in the Big Dance equates to roughly $3.2 million in A-Sun winnings. The money will be divided between all eight of the schools in the Atlantic Sun, but the figures continue to rise as the team in question continues to win.
The idea of getting stuck in the play-in round may sound like an insult to those weak of heart, but the financial implications are clearly a bonus to all those teams that find themselves in a small conference. If, and this is all speculation at this point, UNF is destined for a fifteen or fourteen seed, the stakes go up and the odds level out. Going by the most recent success of A-Sun contenders, the odds weigh in North Florida's favor. According to Dr. Coleman, there is an outside chance, pending the games being played within the next 24 hours, that UNF receives a fifteen-seed.
"Your last two champions have three wins over Georgetown, San Diego State and Duke" Coleman said. "Maybe we get a little more of a favorable view from the committee because the A-Sun has a little more credit now."
The RPI, according to Dr. Coleman, is heavily related to seeding when Selection Sunday rolls around and while this transcends his Dance Card formula, he believes that it is not necessarily the end-all determining factor when it comes to bracket placement.
Regardless of where UNF gets placed on Sunday, the implications are nothing but positive in terms of recruiting and overall exposure. If UNF is destined to play a No. 1 seed, like Duke or Kentucky, then so be it. The gravity of North Florida's situation is that there is no turning back. If the Ospreys play loose and fast — like they did against Purdue earlier this year — and forget the fact they are playing a top-tier team then they stand a good chance of upsetting an entrenched favorite.
Don't forget that this is the month of heartbreak and tears. This is the time when predictions are thrown to the wind as traditional powerhouses suffer horrible, catatonic upsets to underdogs who had previously been flying off of the radar; poetic justice in its finest hour.
---
For more information, news tips, or if you see an error in this story contact [email protected].