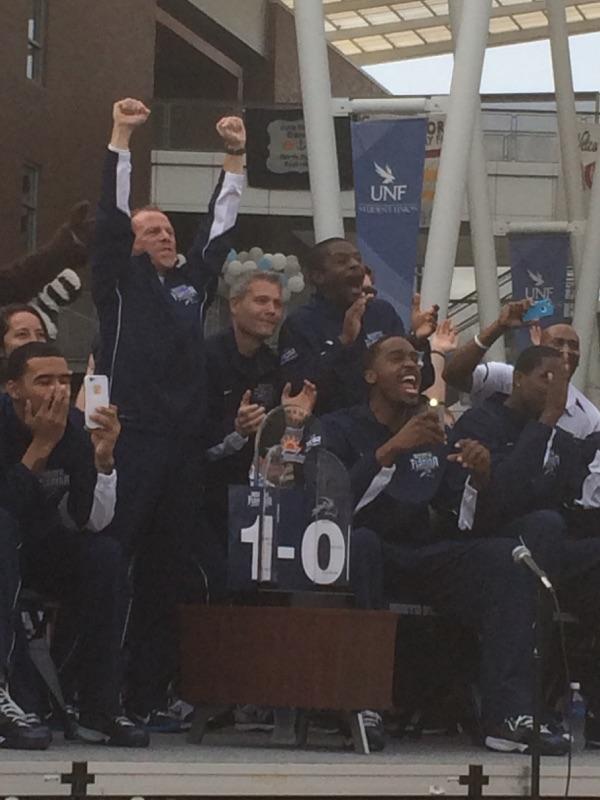 The UNF men's basketball team will face the Robert Morris University (RMU) Colonials in a play-in game in the NCAA tournament as part of the First Four. The game will be in Dayton, Ohio on Wednesday at 6:40 p.m. on TRUTV according to ESPN and broadcasted on the radio on 1010XL AM.
The Ospreys, who won the Atlantic Sun Conference Championship for the first time in school history this year, will play against RMU, the 2015 Northeast Conference Tournament champions, for the No. 16 seed of the south region. The winner of the play-in game will take on No. 1 seed Duke (29-4) in Charlotte, NC on Friday, March 20.
Chris Davenport, UNF sophomore forward, shared his feelings on the announcement.
"Aww man it's a great feeling. Just a good feeling to know that all our hard work is finally paid off, " Davenport said. "Now we get the chance to go to the Big Dance and show the country what we could do."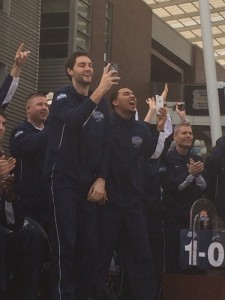 Head Coach Matthew Driscoll also weighed in.
"It's obviously the calm before the storm so to speak," Driscoll said. "We wanted to get to this moment where we knew actually. We knew we had an opponent, but we just didn't know who it was."*
RMU, located in Moon Township, Pennsylvania, holds a 19-14 overall record and a 12-6 conference record, with an average 69.0 points per game overall, according to the Robert Morris Athletics website. This is RMU's first appearance in the tournament since 2010.
RMU's top scorer is 6-foot-5 junior guard Rodney Pryor, who averaged 15.2 points per game this season. The Colonials also have two other players who average double figures. Marcquise Reed and Lucky Jones averaged 14.8 and 14.3 points per game respectively.
Spinnaker will update with a full preview of the face-off against Robert Morris.
*3/15/15 at 8:00 p.m. – Updated video added.
*3/15/15 at 8:13 p.m. – Updated with quotes from Davenport and Driscoll.
*3/15/15 at 8:25 p.m. – Updated with added photo of Driscoll and Kennen.
—
For more information, news tips, or if you see an error in this story contact [email protected].